The Fall of Ja Morant
Ja Morant has been in the media's eye for the past couple of months and not for good reasons.
On March 4, he flashed a gun while streaming video on Instagram at a Denver nightclub, the league announced Wednesday. This is not the first incident that has happened surrounding the All-Star player. Most recently, Morant has been accused of making threatening statements to a Memphis mall guard last summer, according to a newly obtained police report.
Television criticized Morant for risking the career he had worked so hard to attain. The Grizzlies announced that Morant would miss an undetermined number of games, while Morant released a statement saying he was "going to take some time away to get help." The NBA issued an eight-game suspension for his behavior. Ja Morant was suspended eight games by the NBA for 'conduct detrimental to the league' Memphis Grizzlies guard Ja Morant has been suspended eight games by the NBA for an incident.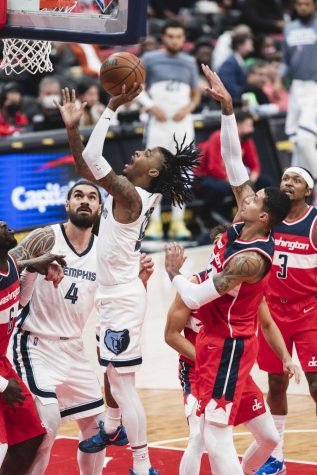 The Memphis Grizzlies star apologized after posting a video of himself earlier in the day, appearing to hold a gun."I take full responsibility for my actions last night," the statement read. "I'm sorry to my family, teammates, coaches, fans, partners, the city of Memphis, and the entire Grizzlies organization for letting you down. I'm going to take some time away to get help and work on learning better methods of dealing with stress and my overall well-being."
Morant will not be charged with a crime in Colorado. The Glendale Police Department revealed the results of its investigation on March 8, saying that it could confirm where the incident occurred but could not "determine that probable cause existed for the filing of any charges."
In other news, Ja Morant was accused of punching a teenager during a pickup basketball game at his Tennessee home. Now, bodycam footage of the 17-year-old telling the cop how the fight went down is making the rounds on social media. The incident reportedly occurred four days after a security guard at a Memphis mall filed a police report alleging that Morant threatened him and an associate of Morant shoved him, though no arrests were made.
Honestly, it is not a parade inside his city anymore.