A Future To Believe In: Bernie Sanders Rally
By: Alan Agundez Castillo
Follow me @OwlFeedAlan on Twitter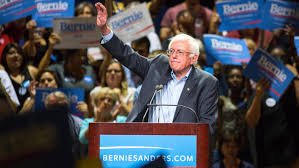 BERNIE! BERNIE! BERNIE! The whole crowd inside the convention was chanting his name as Bernie Sanders proudly walked across the stage to the podium. Just knowing that Sanders was in the building is something that caused the crowd to go wild.
The Bernie Sanders rally was held in the South Building of the Convention Center in downtown Phoenix on March 15. Nearly 8,000 people lined up around the building to get a spot inside the venue. Many people were wearing Bernie Sanders shirts and carrying posters.
There were people from many walks of life that attended the rally. Children as young as 5 years old were there and so were elders from around the state. There was nothing that could have held back his supporters.
Nothing could describe the atmosphere that was felt in that building, that night. Everybody was there for one cause: to have a future to believe in. Before Bernie Sanders got on stage, there were many speakers that talked about the benefits a Bernie Sanders presidency would have in their lives.  
One speaker talked about her struggles that she has faced as an undocumented immigrant. She talked about how difficult it was to get a college education in Arizona with legislation that strengthens the wall between getting an education and not getting an education. There were many other people that helped with the Sanders campaign that gave speeches.
Once Sanders walked on stage, the crowd went wild. There was a sea of signs that had "Bernie" written all over them. It was indescribable to see a person that you look up to, who agrees with your stance on politics, a person that could become the next president of the United States. It was priceless.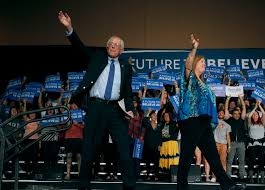 During Sanders' speech, he talked about his campaign and, of course, his competitors. Bernie mentioned how Donald Trump questioned Obama's status as a US citizen. "Obama's father was from Kenya, my father was from Poland, but nobody asked me for my birth certificate," Sanders said.
The vibe inside the venue was one that could be described as a Justin Bieber concert. Everyone was excited to catch a glimpse of Bernie Sanders. Thousands of people were in the convention center to support Sanders and his cause of becoming the next president of the United States.
As the name of the rally, his speech was about a future to believe in.