By: Viviana Flores & Piper Warf
Follow us on Twitter @vfjournalism and @piper_owlfeed
The first Varsity football game took place on August, 26. They played an intense game against Washington. The bleachers were full of students, teachers and parents all focusing and cheering for the players.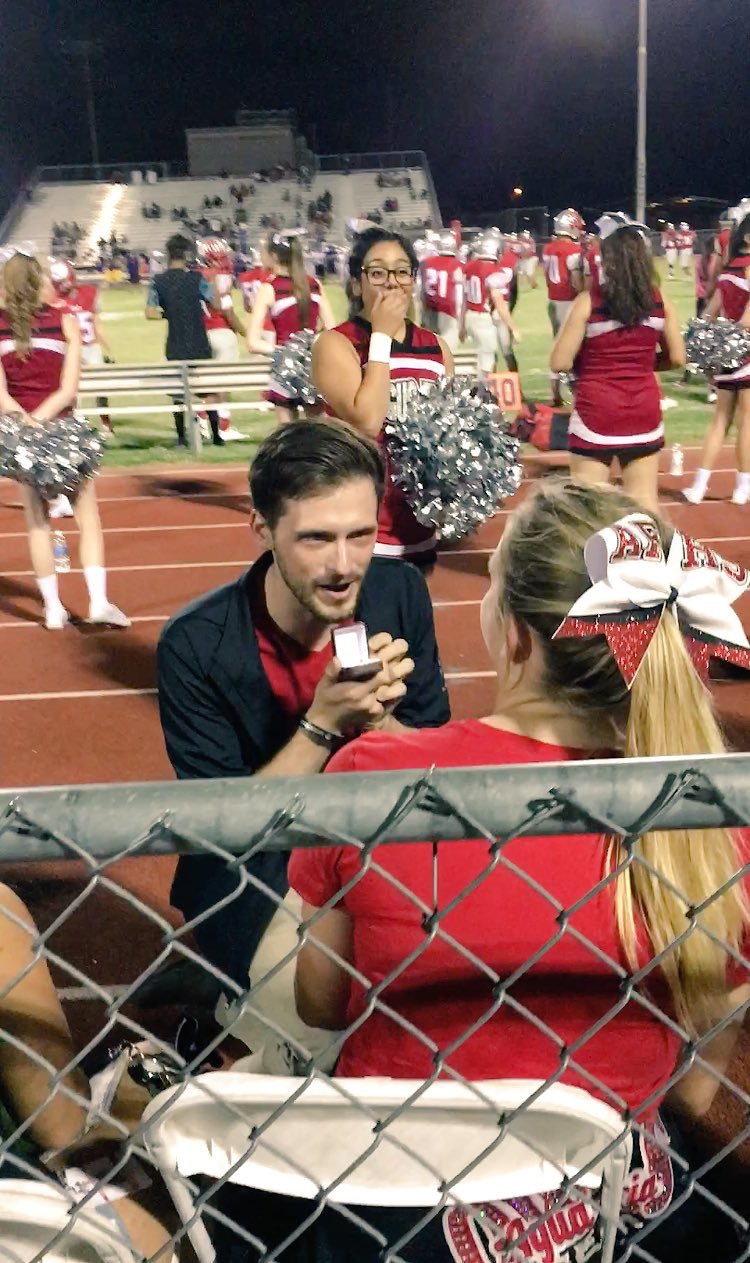 In the bleachers, amidst the chaos, sat Arizona History teacher, Mr. Martin. He was full of nervousness and excitement. He was ready to ask Ms. Jones, the Cheer Coach, a question that would change their lives forever. He would ask her to be his wife.
I had the pleasure of interviewing him on his experience proposing. When asked what made him decide to propose in front of everyone at the football game, he said that he "wanted to surprise her." She was in no way expecting it. He felt it was fitting considering they met when they both started teaching at Agua Fria High School.
He had known for a while that he wanted to propose, but he did not know how or even when the perfect moment would be. He had bought the ring the weekend before, and decided the morning of the game to ask the question. It was a spontaneous decision.
When asked how he felt before asking her, he responded with, "I was sitting in the stands psyching myself out! My right hand was shaky." The temporary moment of nervousness payed off though when he finally asked and she said yes. He felt amazing. "It was one of the best moments of my life," he said. "Being engaged adds a sense of permanence to our relationship."
When I asked Ms. Jones if she was expecting him to propose, she responded with: "Mr. Martin doesn't like attention being shined on him, so the few times I thought about what would happen when he proposed, I always assumed it would be when we were somewhere alone, and not in front of a crowd of people." She was not expecting him to propose at all, so the fact that he did, especially in front of a giant crowd of people, surprised her significantly.
During the game, Ms. Jones explained, she had a lot going on. She was busy taking care of her cheerleaders and she was too distracted to understand why Mr. Martin was trying to get her attention.
"I thought it was really strange of him to come talk to me in the middle of the game," Ms. Jones said. "I just looked at him and didn't register what was going on. He grabbed my hand and I pulled it away because there were students around, so I wanted to keep it professional." After she figured out what was going on, Ms. Jones cried almost immediately. She hugged him and she could not even form the words to say "yes" because she was so blown away.
Once he proposed she thought it was so perfect. She was very ecstatic that her cheerleaders were there to witness that "I absolutely love and adore my cheerleaders, and they're such a huge part of my life, so I was glad they were there for it," she said.
Mr. Martin knows the cheerleaders are very important to her and Ms. Jones thinks he took that into consideration. She's also very happy that he got her mom to come to the game to share that special moment with her.
She mentioned that there are already a lot of changes in her life now that they are engaged. One thing that she finds hilarious is that their moms are Facebook friends now. They've been spending a lot of time and putting in a lot of effort to plan this wedding.
Other than those types of things she doesn't think much will change with just the two of them. "We love each other more and more everyday, but that's nothing new," Ms. Jones said. "That's been happening since day one."