John McCain's Legacy
By: Lauren Mitchell
Owlfeed News Editor
On August 25th, 2018, John McCain, a rebellious boy, heroic war hero, maddening senator, husband, and father, passed away from a brain tumor at the age of 81 in his home in Arizona. The news of his death has devastated not only his family but Arizona and the United States as well.
John McCain III was born on August 29, 1936, to John McCain Jr. and Roberta McCain. He was born at Coco Solo Naval Air Station in the Panama Canal Zone, where his father, a United States Navy Admiral, had been at the time. John McCain III went to a male boarding school where he was very rebellious and had poor grades.
Later, he would be accepted for flight training where he learned to fly attack jets at the Naval Air Station in Pensacola, Florida. McCain enjoyed flying, but sometimes became careless or reckless. In 1967, McCain's Skyhawk aircraft was shot down over Hanoi, Vietnam. As he ejected from the plane, he fractured both arms and a leg, then was refused proper medical treatment after he was captured by the North Vietnamese.
McCain spent five and a half years in captivity, with frequent beatings and torture because of his refusal to cooperate with his captors. Joe Crecca, a man who was also in solitary confinement next to McCain, talked of how they would communicate with each other through the wall using a tap code. "We would pass humorous things through the wall," Crecca told Fox News. Crecca explained how McCain always kept his spirits up even through the torture.
"I had learned what we all learned over there: that every man has his breaking point. I had reached mine," McCain said years after his escape.
March 14, 1973, John McCain was released from the Vietnamese prison and went home a celebrity with parades, medals, and a welcome from Former President Richard Nixon. McCain had become the embodiment of courage. He was permanently disabled and psychologically scarred, but they had not stripped him of his character and spirit.
"Few of us have been tested the way John once was, or required to show the kind of courage that he did," Obama said on Saturday, August 25th. "But all of us can aspire to the courage to put the greater good above our own. At John's best, he showed us what that means."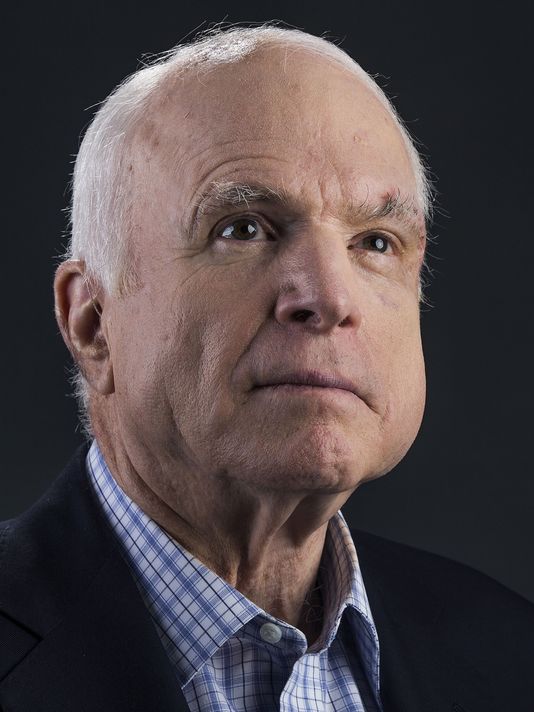 After retiring from the Navy, he settled in Arizona. In April 1979, John McCain met his second wife, Cindy McCain, at a military reception in Hawaii. Interestingly, Cindy McCain had worked at Agua Fria High School the previous school year of 1978-1979 as a special education teacher. Cindy McCain would leave the high school scene and help John McCain on his way to be in Congress with her fathers business and constant campaigning. 
His mother, Roberta McCain, inspired his political career, where he won two terms in the House of Representatives from 1983 to 1987, and six terms in the Senate. In 2000, he lost the Republican presidential nomination to George W. Bush. Later he would become the Republican nominee for President of the United States in 2008, only to lose to Barack Obama. Although he didn't get to become President, he still showed everything he believed in back at the Senate.
McCain has been an outspoken critic of President Donald Trump, just as he was about Obama's presidency. A huge conflict in government was everybody's argument on Obama's Affordable Care Act; McCain, for years, wanted to repeal this act. Days before the Senate vote, McCain went into surgery for a cranial blood clot over his left eye, in July 2017. Behind this blood clot, doctors found a glioblastoma, a huge irritant brain tumor that gave McCain a median length of survival of about 16 months.
McCain started the chemotherapy, knowing that they usually can grow back. Despite this news, he still went on to give a crucial vote in repealing the health law. Lots of people across the US were expecting McCain to vote for repealing the act, but in the end he voted against it. McCain said, "I encourage my colleagues on both sides of the aisle to trust each other, stop the political gamesmanship and put the health care needs of the American people first. We can do this."
On August 24th, 2018, the office of John McCain said that McCain stopped the medical treatment for the tumor. The next day, his office said, "Senator John Sidney McCain III died at 4:28 p.m. on August 25, 2018. With the Senator when he passed were his wife Cindy and their family. At his death, he had served the United States of America faithfully for sixty years."
"I have often observed that I am the luckiest person on earth," McCain's presidential campaign manager read from the politician's farewell speech two days after his death. "I feel that way even now as I prepare for the end of my life. I have loved my life, all of it. I have had experiences, adventures and friendships enough for ten satisfying lives, and I am so thankful. Like most people, I have regrets. But I would not trade a day of my life, in good or bad times, for the best day of anyone else's."
Senator McCain is survived by his wife, his mother, his seven children, and five grandchildren. McCain has been a hero to this country, whether it be in the Navy or as a senator who never was afraid to show what he believed in. "Farewell, fellow Americans. God bless you, and God bless America."