Did Eminem's 'Kamikaze' Go Too Far?
By: Carlos Johnson
OwlFeed Journalist
Famous rapper, Marshall Bruce Mathers III, professionally known as Eminem, released an unadvertised album, Kamikaze, on August 31st, 2018. With over 434,000 thousand copies sold already, Eminem's album is Number One on Billboard's charts for the number of copies sold.
His released album contains thirteen different songs. The full track consists of:
The Ringer

Greatest

Lucky You (feat. Joyner Lucas)

Paul – Skit

Normal

Em Calls Paul – Skit

Stepping Stone

Not Alike (feat. Royce Da 5'9′)

Fall

Kamikaze

Nice Guy (feat. Jessie Reyez)

Good Guy (feat. Jessie Reyez)

Venom – Music from the Motion Picture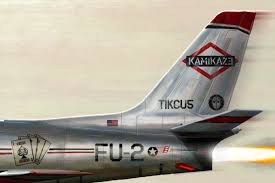 Although many people have bought his album and listen to it, Eminem has caused a bunch of controversy with his lyrics, bashing many other rappers and political representatives in his songs. Even though this is normal for Eminem, he may have gone too far with this album.
One person Eminem calls out is Drake, one of the current chart-dominating rappers/singers. This is surprising, given the fact that they have been on stage together, and have also collabed together. His lyrics in his song Kamikaze calls out Drake, saying:
"You got some views, but you're still below me, Mine is higher, so when you compare our views, you get overlooked, And I don't say the hook unless I wrote the hook."
Eminem also calls out Earl Sweatshirt, a rapper who has recently gotten famous. Before the bash, Earl says, "If you still follow Eminem, you drink way too much Mountain Dew and probably need to like, come home from the Army."
Eminem responded, saying:
"Get Earl, the Hooded Sweater, whatever his name is to help you, put together some words, more than two letters."
In Kamikaze, Eminem bashes on Lil Wayne and Kanye West, and as previously mentioned, Drake. There is no reason for this; they all collabed in a track from 2009 titled Forever. Calling out all three, Eminem says:
"The fans waited for this moment like that feature when I stole the show (ha), sorry if I took forever (haha)."
In his song The Ringer, Eminem calls out the president of the United States, Donald Trump. At first, when Eminem heard about Trump being involved in politics, he thought that Trump would be, "a fresh voice in politics." However, Eminem then started to strongly dislike Trump, after his comments about Mexicans being criminals. "From that point on, I knew that I would be bad with him" Eminem's lyrics in one of his songs truly shows his dislike of Trump. He says:
"But I think it's workin', These verses are makin', him a wee bit nervous, And he's too scared to answer me with words, 'Cause he knows that he will lyrically get murdered, But I know at least he's heard it, 'Cause Agent Orange just sent the Secret Service, To meet in person, To see if I really think of hurtin' him, Or ask if I'm linked to terrorists."
Even if some people think that Eminem's new album may have gone too far by insulting people, there are still some people who love his current music. Isaac Pasillas, a local resident in Litchfield Park, Arizona, had very positive comments and praises about Eminem's album.
"I especially liked the collabs with Joyner Lucas, and his song Kamikaze was great," Pasillas said. "When I heard [the disses] I wasn't too shocked that he did what he did because he's known for dissing. I think that's talent."