Big Buddies Club at Agua Fria is making a special connection
by Tess Morrow
Follow me on twitter.com @TessMorrow
One of the many amazing clubs here at Agua Fria is Big Buddies. This club is mainly run by Ms. Hoover in B23.
Big Buddies gives students the incredible opportunity to help out the special needs program at our school, by providing aid in the classroom and communicating and bonding with our special needs students. The student helpers get permission from their teachers to be excused for that class period and make their way over to Ms. Hoover's class to work with their special needs classmates.
This club has been in motion at Agua Fria for the past three years. "It is an awesome club that benefits everyone, Ms. Hoover said. "I love seeing my students walk around campus and see someone call out their name and give them a high five; that's what puts a smile on my face! I love my Big Buddies and my students love them as well."
Big Buddies members take part in a variety of jobs and activities to volunteer in the special needs classrooms, such as
participating in games and activities, helping the students learn new things, all while having fun with the students. Members also help with out of school events such as field-trips.
One Big Buddies event that has been was the Big Buddies Prom last school year. It allowed special needs students to have their very own prom, and Big Buddies decorated and came up with prom themes and ideas that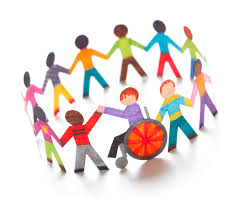 would make the day incredibly special for them! This event was very successful for the club and was even covered by ABC news!
This unique club is constantly welcoming new members to join their small but important community. Both volunteers and the special needs students largely benefit from taking part in this club, and you can too!  See Ms. Hoover in B23 for details.
Check out the Special Friends highlight video: