High School Sweethearts: Some Can Beat the Odds
We see it everyday — high school couples that promise to the world that they will make it to the altar later on in life. But what are the real chances that they will be eternal lovers?
Only 2% of high school relationships result in marriage, and there is only a 54% chance that these marriages will last for more than ten years. But in some cases, high school love can beat the odds.
Karen Quintana is currently a senior here at Agua Fria and she commented on her three-and-a-half year relationship with her boyfriend. She says that they plan on continuing their relationship after high school and that despite all their struggles, their ability to adapt to change is what has kept their relationship strong for so long.
Quintana says she has faced some challenges in her relationship. "Freshmen year the challenge was getting frustrated at each other on who's gonna ask their parents to drop them off so we can hang out," she said. "But, once junior year came around, he was able to get a job and me being used to seeing him almost four times a week, would be easily annoyed when he would not respond for a long period of time because he was working." 
Andrea Barrios, a 2019 Agua Fria graduate, has also been dating her high school boyfriend, Zaven Ochoa, since sophomore year. She is now at Grand Canyon University along with her boyfriend.
Barrios says that her most difficult challenge was their graduating situation. "He is a year above me so I went from spending every free moment together, dressing up on spirit days together and going to so many events together, to all of a sudden him graduating and not being there at all," she said. However, Barrios said that this was a good thing for both of them.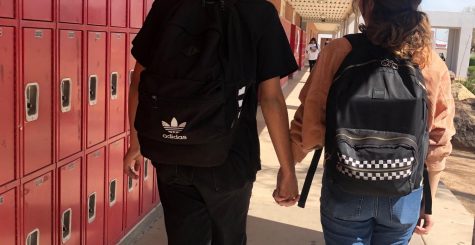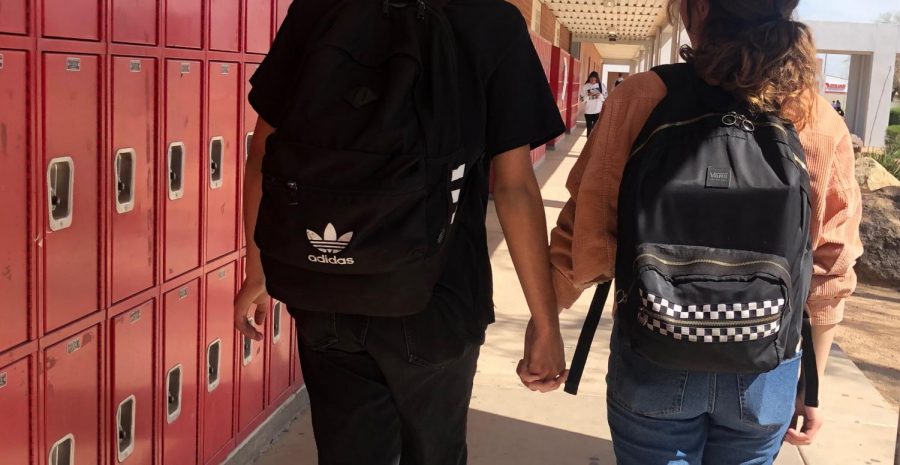 Fortunately, Barrios and Ochoa were able to stay together in college. Barrios talks about the negative comments that she has also received for being in a committed relationship at such a young age. "I definitely felt like I was seen as the more boring one in a group because all my time in high school had been focused on one guy," Barrios said. "But, to me, I felt so lucky to have had one person to grow up with those four years… why go through all that trouble and heartbreak, if your first one just so happens to be great?"
"He truly is my best friend." Barrios added. "He's the first person I go to if I want to tell a joke, have exciting news or just have something random in my mind. It feels so great to have a partner always there willing to listen and walk with me through everyday life." 
Having one of her own, Barrios is a strong believer in high school sweethearts. "Hopefully we can be college sweethearts as well," she said.
Simone Petree, a senior at Agua Fria, talks about her two-year-long high school relationship that unfortunately ended. 
Petree said,  "I think our relationship was good at first, I saw it going on for a while but towards the end, it did not work out."
Petree began dating her boyfriend sophomore year. "He was almost three years older than me and he was already in college and working, and I was still in high school trying to figure out what I was going to do with myself." 
"It was more of a short-term relationship," Petree added. "I believe in high school sweethearts. If you like someone enough then you could probably be with them for the rest of your life, but that just didn't work out for us."
Finally, our very own Mr. Josh Collins, an Agua Fria history teacher, married his high school sweetheart. Collins said, "I met my wife during my sophomore year of high school. However, we didn't start dating until the summer before senior year. We were 'talking,' as they say, for about half of junior year before starting to date. We have been together for almost nine years."
Collins says that he knew from the moment he met her that she was "the one." "It was a weird feeling that I overlooked because I didn't think one could know such things, but alas, it was true," Collins said. 
Collins said that after high school everything is different relationship-wise. "The real world throws a lot of curveballs at you and forces you to cope. The only question is, 'Can you cope together?' We did, it was hard, but we did. So any negative comments we received we took as advice and a challenge rather than getting upset over it and not thinking anyone believed in us."
The term "high school sweethearts" is hard to define, but Collins said that it is possible to keep a relationship going after high school. "… ACTUALLY think about the future, both of yours, and your own [relationship], no matter the age, can be successful," he said. "It just narrows down to how mature the individuals are, if they are truly serious and how they handle problems together. 
"That's honestly the thing that makes high schoolers fail at love. However, what determines the strength of the couple is how they deal with issues and grow with issues, together. How they pick themselves up when they fall. If high school sweethearts can do these things, then yes, I guess I do believe in them."
We see the good and the bad about high school relationships and love. Although many statistics prove much of these relationships unlikely or even impossible, everyone has their own story. 
Whether these relationships work out or not, each one of these individuals deserves the best!