How Covid-19 Canceled Black Friday
Millions of shoppers across the U.S are in a panic. With no Black Friday, when will they get their Christmas gifts for the best prices this year? 
The name "Black Friday" actually dates back to 1966, first seen in The American Philatelist Magazine but became well known across the nation in 1980. Black Friday can be known as the nation's biggest shopping day of the year. 
Retail workers spend the month stocking the shelves getting ready for the ruthless customers and angry mobs that will hit the front of their store on Thanksgiving night. "This year my store has Black Friday deals all month long and especially during the week of Black Friday," said Senior Isaac Wotherspoon who works at the Goodyear Target. "The store really pushed for shoppers to shop online and greatly expanded that aspect of shopping." 
Many families have even made Black Friday shopping a family tradition. They finish the Thanksgiving meal, then head to the stores, even if they are closed. In years past you would find hundreds of people camped outside of the Best Buy waiting for the doors to open. 
For the first time in years, you didn't find shoppers camping overnight. Most stores opened up in the morning only a few hours earlier than their normal business hours. 
While holiday shopping can be very fun, this year it could be life-threatening. As the global pandemic is rising up once again, stores are faced with the question of even having a black Friday sale. Having that many people gather puts everyone's health at risk, mask, or not. 
The local Targets did the best they could to keep the crowds down. "We literally didn't have a Black Friday," said Izia Guevara, Target employee and AFHS class of 2019. "We spread the sales throughout the month instead of just on one night to help keep the crowds low to prevent the spread of Covid." 
"There were definitely less people in stores this year, partially because of Covid and partially because of online shopping," Guevara said. "The internet has provided a new world of shopping and people are loving it, but business is business, if people are shopping at Target online or in person, I'm not mad either way."
 It has currently been one week from Thanksgiving and Black Friday, and there has been a 100,000-case increase of Covid-19 across the U.S. This is just the beginning of the season and with families coming together for the holidays, we have to make sure to stay safe. 
Happy holidays everyone! 
About the Writer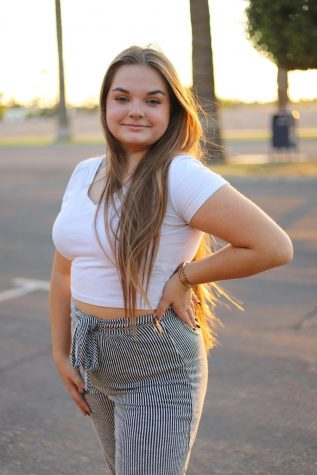 Bella Tarzia, OwlFeed Media Editor
Introducing you all to Bella Tarzia, a 17-year-old senior at Agua Fria. Bella was born on April 2nd, 2003. She's been going to Agua Fria all four of her...