Fabian Palomera: From Agua Fria to the Big Apple
Fabian Palomera is a senior at Agua Fria High School. He is a student with a strong personality, a strong character and a lot of talent.
Palomera is interested in fashion; in his words, fashion "pulls away like no other form of art can. It is an easy way of self expression and it is also a unique way to make it as much of you as possible". 
He is into ethical and sustainable fashion, so thrift shops, which help save the earth. To him, that's really important. Palomera is glad to be able to have those two things coincide. 
Palomera plans to get a degree in business with a concentration in marketing, and work closely with fashion brands. He plans to help them market their designs and artistic vision as much as possible.
As for college, Palomera got a full-ride scholarship to NYU, which is very exciting for him. GO FABIAN! 
Palomera worked extremely hard for his scholarship. Throughout high school he was heavily involved around campus, which makes for an easy scholarship application. 
He was a member of the student council, fashion club, and journalism class (he was a Lifestyle writer in our journalism class during his junior year). He excelled in his advanced courses and has participated in extracurricular activities such as theater, and even tried out volleyball for a bit. Although he didn't stay in volleyball for very long, he was willing to try new things. 
If this doesn't show how amazing Palomera was able to juggle all these things and excel at them, he even worked a part-time job on top of everything. 
 In his essay for NYU, he wrote a lot about ethics and really making social justice a focal point in his career. He wrote about helping those who suffer from inequality, and that got him this scholarship that covers his entire tuition and all other fees for room and board. They see his commitment to social justice and inequality and fixing the issues, and they want to provide the opportunity to nurture that.
I asked a friend and teacher what advice they would give him, how they felt about Palomera going to NYU and what made him so special. I'm not surprised by what I heard. 
"Fabian is one of the most outgoing students I've ever taught," said Mr. Boothman, Fabian's calculus teacher. "He knows how to advocate for himself, and he always pushes himself to gain true understanding. It's not just about a grade for him; he genuinely wants the knowledge, and that's rare." 
As you have seen from all the new things he is willing to try, it's utterly accurate about Palomera.
Palomera is one of those rare people that you only see in the movies where they have advanced classes, maintain good grades, do extracurricular activities, is going to a good college, has good friends, good teachers, somehow manages to have a social life, knows what they want to do in life, and overall is just a great human being.
As Mr. Boothman said, "I think it is precisely Fabian's personality that makes him unique, along with that rare drive I mentioned above. He has grown into a strong, intelligent young person, and I know he will achieve great things at NYU and beyond."
Mr. Boothman has known Palomera for four years and he is beyond proud and thrilled "that Fabian will experience life at NYU! He absolutely deserves it."
Before Palomera would go to college, Mr. Boothman wanted to give him some advice: "Always keep an open mind and listen to others. We all know how loud you can be, but there is also a time to quiet yourself and listen to what someone else has to say before you respond. You're learning that, just keep it up." 
Nadia Kostic has known Palomera for about 12 years, so you can say she has her own view on things when it comes to Palomera.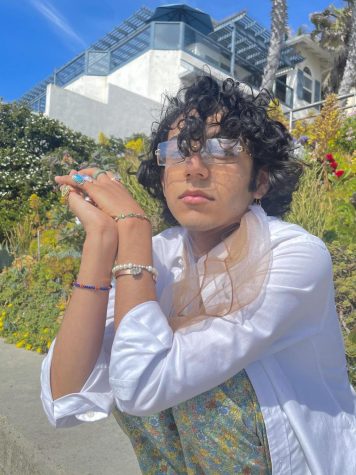 Kostic describes Palomera as "
a great student who is always so dedicated and eager to learn. He is always participating and enlightening students with his unique understandings and findings. He manages to make such a positive impact on campus because not only is he driven towards the goal of being college and career-ready, but he is always participating in extracurriculars. 
"Fabian is always finding ways to better himself by taking advantage of any resources and opportunities at Agua Fria," Kostic continued. "He is always preserving through his tough challenges to achieve goals and be successful."
She is beyond proud of Palomera for all that he has accomplished, one of them getting a scholarship at such a prestigious university like NYU. 
"Fabian is so creative and hardworking that I am truly excited to see what more he will accomplish aside from his many achievements," Kostic said. "NYU is truly lucky to have someone so driven, passionate, and unique." 
Kostic points out that Palomera achieved all that he has now alone with continued support from his family, friends, and teachers. She believes that "what got Fabian to accomplish this awesome achievement is his drive and commitment to be the best that he can be. He is always trying to discover his unlocked potential and persevering. What makes Fabian so special is that he is so unique and creative. He is always discovering new styles, learning more about the world, and finding ways to think outside of the box. 
"He is never afraid to step out of his comfort zone and tackle some of the most difficult challenges so he can be successful. Not only that, Fabian makes a big impact on his friends and family because he is always there to support his friends and family."
Kostic wanted to give her advice to Palomera: "Fabian [should] never stop being so driven and passionate because that has taken him so far and it will help him continue towards the path of success. I would also advise him to continue engaging, stay ambitious, discover what you are passionate about, never give up, and make the most out of your college experience."  
These responses I've received from Palomera, his friends, and his teachers have been very revealing about Palomera's character, and I'm glad I got to know him. To be honest, Palomera has a great personality and appears to be a great friend to hang out with at Agua Fria. I wish him all the best in his college years and beyond.