Meet Isyss Davis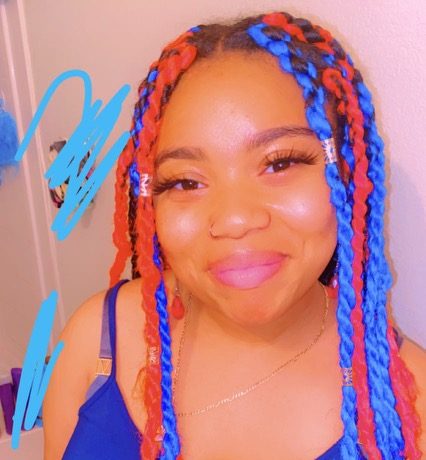 She has hair with the coolest colors. She's outgoing and has an energetic vibe. She has the prettiest white smile with the prettiest skin. Meeting her is something I wish none would miss out on. Meet Isyss Davis.
Isyss Kareema Davis was born on March 14, 2004, in Trenton, New Jersey. She moved to Arizona in 2013 around the age of 9. When asked how it is down there, she replied "humid."
She doesn't have any friends or family in Jersey. It was just her mother, two little brothers and her.
One of many hobbies/talents that Isyss has is writing. Isyss is currently a senior and also an opinion/lifestyle writer for OwlFeed. "I like to write stories about anime. I write fanfiction," she said. 
Isyss is a fan girl and she "ships" characters, which basically means she imagines different characters getting together. She also has a YouTube channel with further explaining about her fan girl life.
Davis also was a cheerleader in middle school. She likes to watch sports but wouldn't play them. "I don't like to move, I wasn't much of a sports person," she said.
Isyss lived (and still does) in a household where mainly R&B is played. So as you can guess, one of her favorite music genres is R&B. Others include hip hop, rap, and electric pop. Ella Mai would have to be one of her top artists. "I just like her voice, and her songs. I don't know why," she said. 
After high school, Isyss will be taking a break from all the tiring school work. When the break is over, she plans to attend college in New York and major in creative writing. Creative writing is her plan A after high school because she does want to eventually become an author. Her books would be about romance and fantasy, so 18 and older novels.
Isyss is not generally a picky person. However, when it comes to her love life, she is. She wants two kids at the most but she's going to be picky with who she has them with. Isyss doesn't want to have kids and they have to go to their dad's every weekend, or one Christmas they're with her and one they're not.
Getting to know Isyss Davis would be one of your best accomplishments this year. She's such a sweet girl with a loving soul. She stays out of trouble and is a very determined person, and I think that's the type of person everyone should have around them.