Heartwarming movie: Me, Earl, and the Dying Girl Movie Review.
By: Viviana Flores
@vfjournalism
This movie has gained a lot of recognition especially for being a Sundance Film. It is a Grand Jury Prize Sundance Film Festival Winner and won a 2015 Audience Award.
Greg Gaines is a quiet teen. He tries his hardest to get through life remaining invisible. He runs away from even the slightest idea of labelling himself.
Since he doesn't like to assign himself to a clique, this causes him to be sort of a social chameleon. He floats from group to group conversing with everyone. This makes building strong friendships and relationships hard for him. He has only one friend and he's scared to even label him as a friend because of his fear of rejection. He instead refers to Earl as a "co-worker", since they make secret films together.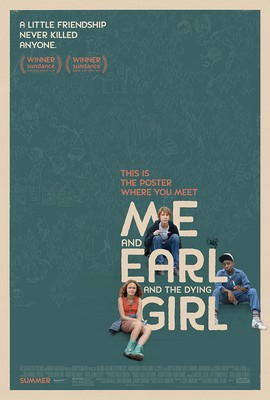 These films are always poorly made and have cheesy dramatic acting.
Greg's mom one day shares news with him that an old acquaintance, Rachel, has been diagnosed with cancer. Greg feels himself saddened, but definitely not devastated.
His mom forces him to hang out with Rachel as she thinks that he may be able to make her feel better with his wit and humor. Initially both Rachel and Greg are turned off by the idea. Rachel refuses to take anyone's pity, and Greg feels like befriending her because she has cancer is somewhat morbid.
He decides to hang out with her and they soon form a friendship. As they get closer Rachel finds out about their films.
She wants Greg and Earl to create one for her. Greg begins stressing and throws himself fully in the filmmaking process. As he see's it, he has the pressure of a dying girl to make a masterpiece.
This movie is one of the most beautiful movies that I have ever seen. From the way that it was uniquely filmed to the acting. It has just enough comedy to keep the audience laughing, but also has so many touching moments. Anyone who enjoys comedy, sarcasm, and understands the fragility of life will surely love this film.