Jesus' Albums of the Year
By Jesus De La Rosa
2017 was packed with amazing albums, from veteran musicians to newcomers alike. Debut albums especially took over this year, with many young acts giving established artist a run for their money. While their were so many notable albums, these are the ones that caught my attention the most. These are the top ten albums of the year (in my opinion).
10.) Saturation – Brockhampton
Brockhampton's debut album cemented them as one of the greatest acts to come out of 2017. Their energy is incredible, drawing back to collectives before them, most notably Odd Future. Saturation starts off with the aggressive "HEAT", calling out police brutality. The energy keeps going with the flaunting "GOLD" and  "STAR", the latter which the band seems like they're trying to rattle off as many pop culture references as possible in 3 minutes. Each member gets to shine on this album, with almost everyone getting a verse or chorus in each song. The members are incredibly versatile, with them taking on different rolls in each song, and being able to switch from angry songs ("I'll break your neck so you can watch your back") to mellow, like the song "FACE", where the chorus includes a chant of "I just want to love, just wanna hold you, never would lie to you". Sometimes, this angry and mellow change happens during the same song, like a Nirvana esque 'soft-loud approach' "BUMP" is a prime example, with bass filled noise for the verses and a lovely chant for the chorus ("when this ends, at least i'll have a reason to live"). Brockhamptons dynamic is unmatchable in this album, and it's followed with Saturation ii released less than 3 months later. Brockhampton came in with a bang and they're music is here to last.
9.) Harry Styles – Harry Styles
I can't say I was a fan of One Direction, but I was pleasantly surprised when I heard Harry Styles new album. Straying from the pop songs that made One Direction a hit, Styles moves into a more rock influenced path, and it works perfectly. The whole album wears it's influences on it's sleeve, from the the song "Sweet Creature", borrowing the melody of "Blackbird" by The Beatles to the hard rock driven "Kiwi". The Lead single "Sign Of The Times" is a gorgeous song that eases you in with Style's soft voice and steady piano chords only to sweeps you away in a crashing wave of bliss when the chorus hits. From start to finish this album is full of pleasant surprises.
8.) Lotta Sea Lice – Courtney Barnett and Kurt Vile
A match made in heaven, Lotta Sea Lice brings folk-country singer Kurt Vile and indie rocker Courtney Barnett together to create an indie work of art. The conflicting styles are put aside as they meet each other halfway, giving us some great folk based music. The country twang in their voices, the electric and acoustic guitars complimenting each other and the casual tone of their conversations throughout the album make this album a must for indie lovers everywhere.
7.) Khalid – American Teen
R&B singer Khalid was only 19 when his debut album American Teen took over. No matter where you went, you were bound to hear hit singles, Location, Saved and Young, Dumb & Broke, they were inevitable this summer. As good as the singles were, the album as a whole was breathtaking. "American Teen" speaks of love, heartbreak, hope and the constant teen angst. He speaks to average, american teen, exactly as the title implies. His voice is incredible, deep and soothing, and we're drawn to every syllable. His emotions are clearly felt, especially on songs like "Shot Down", where the chorus sent chills down my spine. His music is passionate, unique and relatable, and his success is well deserved.
6.) Lorde – Melodrama
Lorde's follow up to 2013's "Pure Heroine" was highly anticipated after she pulled a Frank Ocean- like radio silence for 4 years. Like most cases, the silence caused many to hype up the idea of the album, and many to doubt the album would live up to the hype. Of course, when Melodrama was released, there was no doubt that Lorde was here to stay. Single "Green Light" seemed like an odd effort at first, but with each lesson began growing on me, deeming itself as a Lorde classic. Piano driven "Writer In The Dark" is another stand out track, it's haunting and menacing, and we could assume Lorde was singing the songs through clench teeth. "Homemade Dynamite" has also become another one of my favorite Lorde songs, being an anthem to youthful partying.
5.) Ctrl – SZA
SZA's incredible talent shines through in her major label debut, Ctrl. With break out tracks like "Supermodel", "The Weekend" and "Love Galore", the gained tons of hype and following. Her sweet, seductive voice fits well with the attitude that she brings to her music. SZA collaborates with many notable names on Ctrl, like Travis Scott and fellow label mates Kendrick Lamar and Isaiah Rashad, and her chemistry with them works incredibly well, especially on the Kendrick assisted "Doves In The Wind". Even with big names on her features, she's never outshone. SZA dominates every song. Ctrl is a  great album and SZA's talent is incredible.
4.) A Crow Looked At Me – Mount Eerie
"Death Is Real" Phil Elverum sings at the very start of this album, and he knows it all too well. Recorder after the death of his wife, A Crow Looked At Me is one of the most heartbreaking albums in recent memory. Throughout 11 songs, Mount Eerie digs into the pain and confusion death brings. The album is blunt, and that's what makes it so powerful. This is an album by a man truly in pain, who doesn't coat the lyrics with sugar and poetry. It's a diary entry that he shares for the whole world. There's no words to describe the feelings brought by this album. It's pain its ugliest, purest and most beautiful form.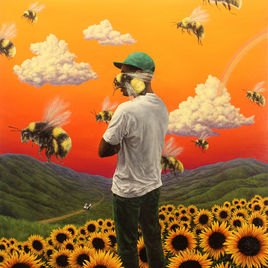 3.) Flower Boy – Tyler, The Creator
The evolution of Tyler is incredible. If you've listened to any Tyler album or song in the past and decided it wasn't for you, give this album a chance. Not to downplay any of his previous albums, but Flower Boy is arguably Tyler's best work. Lead single "See You Again", with frequent collaborator Kali Uchis, are melodic anthems of love, with the first part being carried by Kali Uchis and then hurtling you into a quick, but notable verse by Tyler. Songs like "Boredom" and "911/Mr. Lonely" are reflections on being bored and alone, and all the feelings that come with that. They're insights into Tyler's mind, but also incredibly relatable and pleasing. Let's not forget songs like "I Ain't Got Time" or the A$AP Rocky assisted "Who Dat Boy" that are catchy and energetic. The growth on this album is exciting, and it shows a new Tyler, one who we can expect more great things from on the future.
2.) Freudian – Daniel Caesar
Another debut album, Daniel Caesar delivers an emotional masterpiece not seen since Blonde. On Caesars ep Pilgrim's Paradise, he draws a Jeff Buckley esque vibe, especially on songs like "Show No Regret", but on Freudian, Caesar fuses this with classic R&B and it's gorgeous. Intro track "Get You" with Kali Uchis is a romantic effort, silky and lovable, with Caesar's emotions weighing down on with every word. "Neu Roses (Transgressor's song)" is another notable song. The angelic chorus that opens the song is amazing, the harmonizing sends chill down my spine. The funk inspired beat that kicks in as the song goes into full swing is near perfection. This whole album is an amazing journey into your feels, and it deserves so much more recognition.
1.) DAMN. – Kendrick Lamar
After the much acclaimed "To Pimp A Butterfly", the soulful, jazz inspired bliss that took on the political climate of the time, everyone was asking where Kendrick could possibly go. With his 4th album, he completely strayed away from the sound of "Butterfly" and went with a more mainstream, accessible sound, giving us fun, chart topping songs, but without sacrificing his lyrical genius. Songs like (My favorite) "FEAR." dig into Kendrick's psyche, laying out his fears for the whole world to see. The first single "HUMBLE." talks about the egotistical rap climate of the time while, while fitting right in among chart hits at the time. "DNA." is the first actual song on the album, and it grabs you with it's in your face attitude and the album won't let you go from their. "XXX." was a bit if an eccentric venture, with rock band U2 featured on it. What seemed like an odd concept on paper turned into a beautiful venture reminding us that Kendrick is just a mortal man, through the story of a man asking him for spiritual guidance after the murder of his son. Final track "DUCKWORTH." brings us back to albums like "good kid, m.A.A.d city." where Kendrick's storytelling shines. It's a perfect end, and a perfect beginning as the album comes full circle, starting off from where it began, with the now iconic line, "So I was taking a walk the other day…"