AF Student Seeks Gold Award With Original Play
By: Carlos Johnson
OwlFeed News Editor
As we continue to move past 2019, society's dependability on technology has increased at an exponential rate. According to the Washington Post, teenagers used technology on an average of about nine hours a day in 2015. That being four years ago, the dependability has only increased.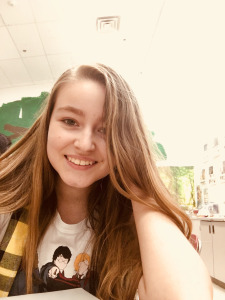 This means that people everywhere are relying on technology, and have not looked to have a link between them and the real world—especially in the theatrical aspect! People everywhere constantly stare at a phone or a television to watch a show and to watch short video clips. Consequently, fewer and fewer people are watching live shows in person.
Agua Fria High School student Emma Parry, senior, is looking to change that. As a Girl Scout, she is looking to obtain her Gold Award.
"A Gold Award is the highest honor a Girl Scout can earn. It is equivalent to the boy's Eagle Scout Award," said Emma Parry. "It's all about finding an issue in the community and creating a sustainable project that will continue to have the desired effect you had after you leave."
She continues to explain that this project is a requirement for a Girl Scout to receive their Gold Award. This makes the Gold Award significantly harder to earn than an Eagle Scout Award.
"[As a minimum, a Girl Scout Award needs] 80 hours of community service, plus the commitment and sustainability aspect of it," she continued.
According to Parry, people who attempt to receive this prestigious award often create libraries in a park. Another project that is often done is bringing trash cans into parks. They then have Waste Management come in and empty those trash cans because the Girl Scouts noticed that those parks would often get trashed, and filthy.
"It doesn't need to be simple as that," Emma said. "A girl I know in a different neighborhood worked in a female ministration group in Syria. She helped them distribute tampons and pads to young girls because they would be sent home."
Emma's idea for her Gold Award project is very creative, and on top of that, is very eye-opening.
"I wrote a One Act. It's basically an anti-bullying thing using the Wizard of Oz characters. I also got a whole bunch of theatre friends in our Theatre Honour Troupe to go with me. I'm using this and talking to the superintendent of the Litchfield Elementary School District. We are going to perform this One Act to students in elementary schools. Afterward, we are all going to talk about why we love and enjoy theatre because a lot of people don't see and don't use theatre in their lives," Emma said.
Emma is doing this because it has helped her in her life and really wants theatre to help and have a positive impact on future students.
"Theatre gave me the confidence and gave me a safe space to develop my own voice. I feel like a lot of people can really use that," she said.
Having to do with technology, Emma finds that, "Technology does have an issue, but it also doesn't. I think technology really stifles people's voices," Parry said. "A lot of people are stuck on their phones, and it easily increases their social anxiety that a lot of people have because it's so easy to hide your face into your phone."
"But technology is also how I am getting this out there," said Emma. "This technology is giving the people this opportunity to use [this script] everywhere. I'm posting this everywhere. That is how I am getting this out there."
Next time you see Emma around campus, congratulate her on working on this really extraordinary task!