Fashion Club Gives Students Creative Outlet
By: Amira Bouhout
OwlFeed Journalist
Here on campus, we have a very creative and talented group of students that express themselves with fashion. Have you been wondering who I may be talking about? Well, it's Agua Fria's Fashion Club. 
The club is sponsored by Ms. DeLuca and AFHS junior Sol Arevalo is the club president.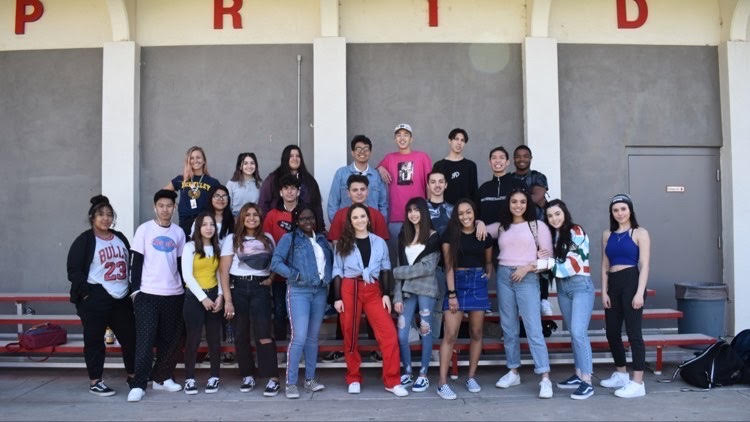 The Fashion Club is open to all and meets every Monday and Wednesday in J14, Ms. DeLuca's room, after school. In their meetings, they discuss things such as future projects and sometimes they even do projects like their photo challenges where they split into groups and find spots around the area to shoot.
I spoke to Crystal Marquez, a junior in The Fashion Club and she said, "I like that you can really express yourself in that club and everyone around you makes you feel comfortable…Definitely, a place where you can be yourself." 
"People should join the club because it's an environment you can really express yourself in, especially if you're into designing clothes," Crystal added. 
"I wasn't really expecting anyone to really come at first and we have about 20+ members in the club now," Sol Arevalo said. 
They also do denim projects where they customize their own jeans. Some people will paint on them while others will distress them, as an outlet to express their creativity. 
Sol said that at some meetings, "We hold workshops where people come in and do fun fashion related activities. For example, we have done a denim customizing day and we also have another photography challenge soon." 
This April the club will be holding its first of hopefully many fashion shows. For this show designers and models have been selected and will be able to showcase their work for everyone to see. 
"Seeing a lot of schools being established for so long, holding these fashion shows, motivated me to try to do our show 100 times better," said Sol, expressing his motivations for the club as president.  
Sol continued, "The whole point of this club is to encourage everyone to express their style and experiment with new ones in a fun manner! This club is open to everyone at school and I encourage more people to go!"
Sol then concluded, "I love working with clothes and positive people and I hope to create and share that same environment with everyone here at AFHS." 
The club is full of very nice and unique people! So if you have ever thought of joining, don't hesitate. You can also become a part of The Fashion Clubs journey and have fun while meeting new people!