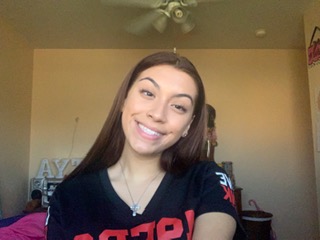 Tya Maestas is a new member of Owlfeed with a passion for journalism. The 16 year old Gemini was born on May 30, 2003. She has one younger brother, who is 13 years old, and a younger step-sister that is 13 years old. She is currently a junior and has been at Agua Fria High School since freshman year and plans to graduate from here. After she graduates, she plans to go to ASU and major in physical therapy.
Tya joined journalism because she loves to write and express her emotions. Her position in her new journalism class is lifestyle reporter. She has many interests but her favorite thing to do is scroll on TikTok and watch YouTube and Netflix.¨The YouTuber that I watch the most is Bounty Hunter B.¨
Tya has three pets. She has a pitbull named Henry that is very hyper and a tortoise that she keeps outside and is the complete opposite of her pitbull because he is in hibernation. She also has a pet bird named Baby that bites her a lot. ¨My Favorite pet is Henry because he has the most energy.¨
A typical week day in Tya's life is waking at 5 a.m. because she lives in Tolleson and she has to drive her little brother to her grandma's house so that he can go to school then goes on her way to school. After a long day of school, she drives back to her grandma's house to pick up her brother. After she picks up her brother, she heads home to do homework, eat and relax.
Tya currently does not play any sports because she said, "I have bad luck because when I was younger I got hit by a baseball and my glasses broke." She used to play on a baseball team with her brother. Tya does not play baseball anymore because she is traumatized. During her free time, Tya loves to spend time with her family, especially during the holidays. They go on many trips together. They go to California a lot because her mother loves it over there. Tya said one of her favorite places to go to in California is the Queen Mary. On one of her trips, it was a disaster because the car broke down in the middle of the mountains on her way to Disneyland.
Tya's most memorable moment in her life is getting her license the day she turned 16. Another memorable moment was when she was riding on the back of her friend's bike pedals and she fell off. When she fell, she quickly realized that she had chipped her tooth. With this, Tya has never broken any bones or gotten stitches.
There are so many more fun, interesting things to know about Tya, but you would just have to get to know her to know more. Don't be afraid to say hello if you see her on campus!
Tya Maestas, OwlFeed Journalist
May 13, 2020

Karen Quintana Shined In Soccer and In the Classroom

(Story)

Apr 15, 2020

Rapper's Situation Exposes Risk of COVID-19 to the Incarcerated

(Story)

Mar 04, 2020

The Weeknd's 'After Hours' Drops March 20

(Story)

Feb 29, 2020

Tips to Avoid Spring Break Boredom

(Story)

Feb 20, 2020

Justin Bieber's 'Yummy' Is NOT So Yummy

(Story)