Senior Spotlight Haylie Mullhausen: A Leader On and Off the Court
The hard-working, motivated, kind-hearted, humble, and outstanding woman, Haylie Mullhausen, is a senior at Agua Fria High School. She has been a student at Agua Fria since freshman year. Haylie plans on going to ASU to study Sports Business in hopes of someday being a sports agent for a star football or basketball player. She also has dreams of being involved with an NFL or NBA sports marketing team.
Haylie is Vice President of the Agua Fria student body. She goes above and beyond to do the best she can, as she takes pride in her work, showing leadership and passion for helping others during her high school career, all while giving her best effort helping in StuCo and being a part of the Agua Fria Women's Volleyball team while maintaining good grades. As Student Body Vice President, she is one of the best we have had here at Agua Fria. "Haylie makes a fantastic VP for Agua Fria in so many ways! She is dedicated to her school and is consistently going above and beyond for events and spirit weeks. She always works to pump up the crowd at assemblies. Haylie is a natural leader and motivates others to do their best and get involved. She has done so much for Agua Fria and represents our school with pride!" said Ms. Ramsbacher.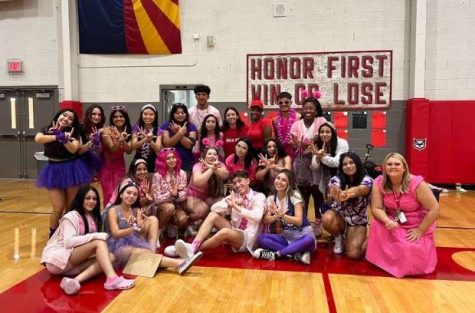 Many would describe Haylie as someone you can go to for anything and she will always be there for you, as she is a funny and overall  amazing friend. Ruben Anaya, Agua Fria's Student Body President and a very close friend of Haylie, said, "Haylie never fails to make me laugh when I'm in a bad mood, we've known each other long enough that she knows what I'm thinking just by a glance." Haylie is one of a kind; she isn't like other students here; she stands out from the rest in many positive ways; she is special. "You know exactly what makes Haylie so special. Haylie is extremely hard-working, goofy, and loyal. Haylie will always give her all and will push others to do the same. She will go above and beyond to take care of the people she loves. Haylie reminds me to live my best life for me, no matter who is watching! I hope if you get the honor of meeting her, you will feel the same!" said her older sister Sam Mullausen.
Haylie's biggest inspiration is her sisters, as they are her biggest support system. " I have grown up, looking up to them, and they are the reason I do most of the things that I do, and I could never think of them enough for being such good remodels and for being my best friends," said Haylie. Her sisters are also the reason why she played volleyball these last couple of years. "I was always at her games and tournaments, and I got pretty into it, which led me to try it for fun as a freshman and it was one of the best decisions I've ever made!" Haylie put all her school spirit on and off the court.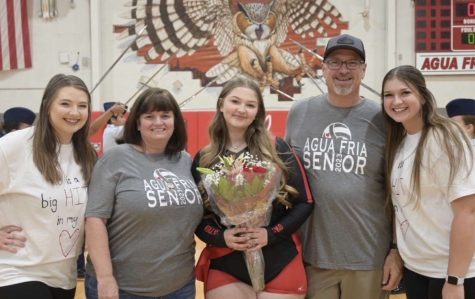 "I would say that the highlight of my senior year was making and becoming so close to the friends that I have now. As well as finally being able to be myself because of them!" said Haylie. She is most proud of becoming student body vice president, as well as maintaining good grades throughout her four years.
Overall, Haylie is a very outstanding person. People enjoy being around her. We could only hope for a bright future for her, and for others to be able to meet her and see what a great person she is.
Haylie's years here at Agua Fria have finally come to an end, and now it is time to open up a new chapter in her book. "Some advice I have for incoming freshmen would be to stay involved and don't let what other people think to affect you, it is so important and truly makes high school so fun and ten times more enjoyable!"