Throwback to "Over The Hedge"
By: Ulysses Altamirano and Litzy Santana
Follow us: @OwlFeedUlysses and @OwlFeedLitzy
When a raccoon named RJ (Bruce Willis) befriends a bunch of wood creatures coming out of winter hibernation, he secretly convinces them to take over the whole neighborhood and steal their food.
Little do all the wood creatures know that RJ owes a bear named Vincent a debt. A cart full of food must be delivered in a one-week period. After all the food is gathered, RJ steals all food but Verne (Garry Shandling) secretly knows RJ's reason and gathers a plan to stop him.
| | |
| --- | --- |
| 0 | This movie has bad acting, a boring plot, and shouldn't have been made. |
| 1 | Movie was bad quality. There was little amusement but no big deal. |
| 2 | This movie did have some interesting parts. Could improve upon a lot more. |
| 3 | You will probably like this movie, it will make you laugh or cry. Could go either way. |
| 4 | Movie was very interesting. Had a lot of great acting and followed a very good plot. |
| 5 | You have to see this movie it's a MUST! YOU WILL LOVE IT! |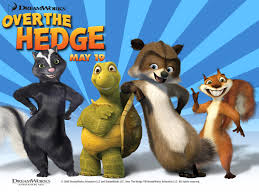 Out of a rating of 5 we gave this movie a 4. This movie is a cartoon. It's mostly targeting an audience of children. We are all children at heart. This is a movie that will make you giggle and smile more than a few times. We recommend to watch this with family. It's a great choice for movie night.
Ulysses: This movie was just absolutely hilarious. I first saw this movie 5 years ago and every single time I watch this it does in no way fail to make me laugh. It follows a great plot about wood creatures. This movie is rated G so everyone in your family can watch. Enjoy!!!
Litzy: Cartoon movies are my second choice next to action movies, which are my first choice. "Over the Hedge" is a good movie to watch on a Saturday night when you feeling like a kid again. It made me smile and laugh quite a few times and it is very enjoyable. Make sure to go check it out!!!