Lluvia Beltran: Agua Fria's Rain in the Drought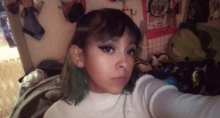 This is an article about Lluvia, an article about who she is, what she enjoys to do, her advice that she would give people and herself, and just some weird quirks or facts about her. 
Starting off Lluvia is an 18 year old senior who was born February 22nd 2005, Lluvia enjoys drawing, sports and volunteering at school events even if it's just to get out of the house. Some of her hobbies/ activities that she enjoys doing include Tennis, painting, singing, dancing, football, badminton, baseball and so much more.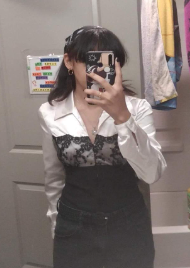 Lluvia is such a sweet and kind person, although oftentimes she wishes that she had gotten out of her bubble more regarding her earlier years of high school. Which she says is some advice that she would give to some of the freshmen and sophomores in high school, she says "I wish I had gotten out of my bubble beforehand, and not procrastinate as much." She also believes that staying on your work throughout the school years is very important for the rest of the school year. She encourages anyone no matter what grade they are in to be themself and venture out of their comfort zone because she wishes that she had more back then. Which is one of the reasons that you will often see her at any volunteer stuff at the school, or walking around school dressed up as much as she can for spirit week. 
Lluvia is a good listener and loves giving advice, and some of her favorite memories regarding high school is when she would pass little notes to random strangers, it brightened her day to see their smile brighten up. She loves her friends and is very close with them. Her family is also a big part of her life, Lluvia says that after school she is going to go and help her family around the house, she looks up to her mom with the utmost admiration, saying that "She is persistent and we've been through everything together and it gives me hope that I can too."
When asked what advice she would give to her younger self was that she would try to not take too many things to heart and she believes that people should try to be kind to others even when they're sad. She loves to talk to people and is a very loving person, she is sweet and is a very approachable person.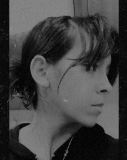 Some interesting facts about Lluvia is that she LOVES criminal minds, because when she was little she watched a lot of crime shows. Her favorite color is purple, her favorite part about senior year was meeting new people and getting to know them. Lluvia loves elephants, and believes that they are like gentle giants, she loves to look up random facts about them and will probably defend elephants till her last breath. Lluiva has been banned/ told not to cut her hair anymore because her parents want it long for graduation, Lluvia has cut her own hair down to a pixie cut and cuts her own bangs. She also enjoys finding new styles to do with it whether it's cutting or simply dying it a different color.
Lluvia is an 18 year old senior who's smile brightens up the room, she is sweet, kind, and an incredibly patient person, she loves to talk but also is very open to listening to you and giving you her honest and open opinion, getting to know and interview her has been such a pleasant experience. And anyone would be lucky to have a Lluvia in their lives.