Note: In memory of Ed and Lorraine Warren and the amazing cases they worked on.
Ed and Lorraine Warren are some people involved in really gnarly paranormal cases dedicating their lives to praying with fire and the cult as much as spiritual evil.
Is paranormal activity normalized nowadays? Ed and Lorraine Warren, also known as "The Warren couple," contributed to many cases that are being brought up again a long time after they were released. The biggest controversy was whether they were paranormal hunters or just big fakes. Throughout their lifetimes people have talked, some people were for it and some people were against it. The thing about paranormal activity and entities is no one knows if they are real or not, but what was found in their cases is something not considered human.
Going back to when everything started, we see two separate people who soon became known to the world. Ed Warren Miney and Lorraine Rita were individuals who were known to experience feelings of another world opening up to call for them. They met in 1944 when they were both teenagers, and they always talked about meeting by an ice cream parlor where they saw each other for the first time where something sparked. They both had very similar exposure to the world. From ages 5 to 12, Ed grew up in a house in Connecticut that was believed to be haunted, this made him curious about what was on the other side of life itself. What made him different is that years later he became what is known to be a demonologist. Likewise, Lorraine Rita had paranormal experiences since she was 7 years old, she felt that she was communicating with unknown forces. So what was Ed Warren Miney and Lorraine Rita, became Ed and Lorraine Warren. In the 1900s they opened a psychic research center in New England.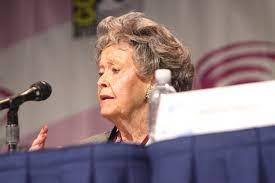 They were the type of people who would bring you cake when you just moved in, but you never knew what was going on behind their doors. Life in demonology, they always wanted to reach forward to show people this was real, this was dangerous. They say everyone who has or still plays with tarot cards, boards, or any spiritual items, unintentionally left portals open and has then invited entities to come into their house, or worse, themselves. A lot of people get angered by hearing the word "portal", but just like going to church and praying to hope the angels, saints, or your god hears you– scrying to an object is subconsciously hoping someone from another dimension can come through and speak to your matters.
A lot of people have many questions, why have they collected so many items? Why don't they just burn them? When you choose to give your life dedication to solving cases, to be the ones people are looking forward to solving their problems, I don't think there's any way to go back. They have claimed to have worked in more than 10,000 cases consisting of "hauntings, demonic possessions, and much more"(The Lineup). The saying about paranormal cases is that when you are the most vulnerable the more the entities will want you. This is simply because you are tasteful to them and at your worst, they find an open path to attaching themselves to you. Most do it without your permission, "I'm not frightened by it, because if you are, you would attract energy to you that could be harmful." Lorraine Warren herself has stated many times the more fear you give these unknown forces, the more frequently they will strike when you least expect it. when you look at these items you may think, "But it's just a mask," "That's a doll made out of pure materials", or "Just some decoration", but what most people are missing is that the objects are the vessels of the spirit, and them themselves did not come haunted or cursed, something launched onto these items that makes them haunted, items that have witnessed an exorcism or any unholy activity. These items are not toys.
The sayings are true, there are both evil and good in this world but it is your choice who you choose to believe. The way some paranormal investigators and demonologists gave the world a new point of view they were not ready for is brightening, and it gives you a chill eerie feeling, but it makes you think. As most people know, their case "The Devil Made Me Do It" is based on a true life story that went to be the first case in court for Arne Cheyenne Johnson, the man who got possessed by tempting a spirit to get out of little kid David Glatzel and invited the demonic entity into his body instead. Cheyenne was the first case in court to use " demonic possession" and denial of personal responsibility for the crime and the murder of his landlord Alan Bono. In this universe, some people believe and others don't believe in their cases, but this world is never-ending, let's not doubt the obvious chance of another world being connected that only they were able to experience.