Academic Stars Honored at Awards Night
By Andrea Vasquez
Twitter: @OwlFeedAndrea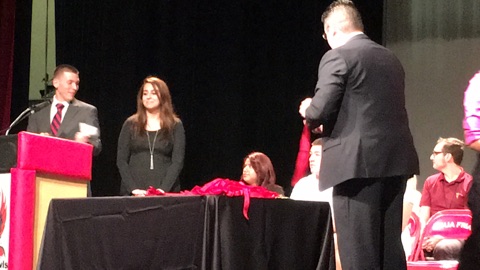 The feeling of pride could be felt behind the curtains and bright lights of the auditorium. Parents and family sat in their seats waiting to catch a glimpse of each of their hard-working children receive an academic award. The auditorium was full of chatter until the principal Mr. Luedemann stepped on stage. A sudden hush went throughout the audience as his speech begun.
This was the scene at Agua Fria's Academic Awards Ceremony on Wednesday, February 17th. What Mr. Luedemann was about to present to Agua Fria's juniors was an honorable award giving praise to those who strive far and beyond in their academics. Students were granted either a gold or silver medal depending on their GPA and a pin if they have received an academic letter before. Mr. Luedemann, Mr. Allpress and Mr. Olson all presented the student's name and awards. Teachers sat watching with smiles on their faces as they saw one student after another receive an award.
Students in their best attire were backstage waiting to be called up. As each student's name was pronounced, whoops and cheers could be heard from the student's family and supporters. They would lean their head to be given a medal of either gold or silver around their neck, then stepped up to receive a pin. They would then smoothly glide over to their chairs and watch their peers receiving such an honorable award. The feeling of pride and happiness could be felt throughout the atmosphere.
After the ceremony students were dismissed to go and receive words of congratulations from their friends and family. Students wore their medals proudly against their chest and smiled for many photos that family were taking. It truly was a special night for those who strive far and beyond.