By: Alan Agundez Castillo
Follow me @OwlFeedAlan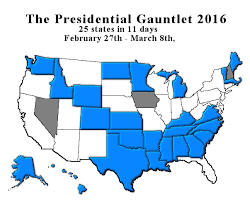 Super Tuesday. March 1st, 2016. This day will pretty much determine how the rest of the presidential race will turn out. Thirteen states and one territory will be participating tomorrow in voting for president.
The states (and territory) that are voting are: Alabama, Alaska, Arkansas, Colorado, Georgia, Massachusetts, Minnesota, Oklahoma, Tennessee, Texas, Vermont, Virginia, Wyoming and American Samoa.
There are many core states that are voting tomorrow that could potentially affect the presidential nominees. There are 5 Republican nominees and 2 Democratic nominees in the race.
For the Republicans, there is Donald Trump, Marco Rubio, Ted Cruz, John Kasich and Ben Carson. For the Democrats, there is Hillary Clinton and Bernie Sanders.
As the primary keeps on expanding nationally, it becomes a lot more difficult for the nominees to reach their voters, so it will be interesting on how they will be able to reach the voters.
Ted Cruz hopes to win his home state of Texas tomorrow and for many, Texas is the golden prize, as many delegates will be earned for the person that wins the state. However, time will tell if he will win that state.
Polls throughout the different states show that on the Republican side, Trump is leading in Virginia, Georgia, Oklahoma and Vermont. While for Texas, some polls show that he is leading while others show that Cruz is leading.
Clinton is leading in most states for Democrats. She is ahead by double digits in Texas, Virginia, Georgia, Arkansas and Alabama, according to recent polls. Sanders is leading in his home state of Vermont; he's close or slightly ahead of Clinton in Massachusetts and Oklahoma.