Band of Owls Perform with C.T.S.
By Miranda Cavada
Follow me @owlfeedmiranda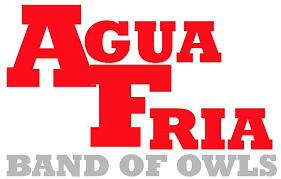 Everybody can agree that patriotic rock bands performing at our school isn't very common. Fortunately, this once-in-a-lifetime opportunity came true when Agua Fria's own Band of Owls shared the stage with a very talented band called Consider the Source (C.T.S.).
Not many people have heard of C.T.S., so I'll give out a few details. C.T.S. is a rock band that travels the country to perform their songs with high school bands, symphonies and orchestras. Since they're a really patriotic band, some of their songs are dedicated to war veterans who died to protect this country. The main idea of their songs, however, is to encourage kids and teens to follow their dreams.
The members of C.T.S. are lead singer Jeff Senour, lead guitarist Dylan Elliott, bass guitarist Jerry Nuzum and drummer Joe McGinnity. Along with the Band of Owls, C.T.S. performed some of their most popular songs:
Here I Am

Invisible

Quarter Mile

Why Do You Love Me

Reach for the Sky

Weight of the World

Silence

Snowball Express

Way Back Home
These songs were performed with a lot of pride and passion, as expressed by the Band of Owls. When C.T.S. was playing some of their other songs, the audience and our band clapped along to them. With multi-colored stage lights and plenty of fun, this night literally rocked.
#GoOwls