Recruiters Guest Speakers- "Helping those who can't help themselves"
By Joshua Bakarich
Follow Me @OwlFeedJosh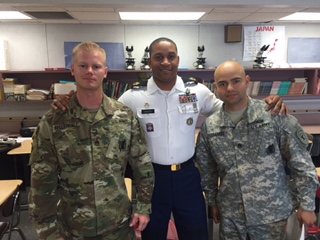 This week military recruiters came into Mrs. Ferguson's forensic science class to talk about college and how forensics can solve cases and save lives. They started off the speech by asking all the students if they wanted to go to college and if anyone is interested in forensics for a career. After, they told all the students about their options and if they had any clue what comes after high school. Most of the students did not have an idea.
No matter what path that you choose in the military, you get benefits. If you serve for a certain amount of years then you can get a full ride to most colleges and universities. They told the class there are over 160 different career choices in the military. Some of those choices aren't dangerous and might even be a desk job.
But they also said that you are signing up for the United States and when you sign up you are agreeing with all the terms. Some of those might mean you are put in danger. It's for an amazing cause but if you aren't prepared, make sure. They told us that the military isn't for everyone and that only 1 percent of people are meant for the military.
Whether you are deciding on college after high school or the military, both have advantages. With the military it includes money and "helping those who can't help themselves," according to one of the recruiters. It's the best thing in the world, the recruiters told the class. Knowing that you're doing something worthwhile and saving hundreds of lives each day, instead of flipping burgers, is amazing. The military is always an option in your life and it can help further your education and the way you live.
If there are any questions the recruiters told the class they can go online and search for the branch they are interested in and find information on it.