My counselor Mr. Gironi
Meet Mr. Gironi
By Divine Olorunfemi
Follow me @OlorunfemiD1983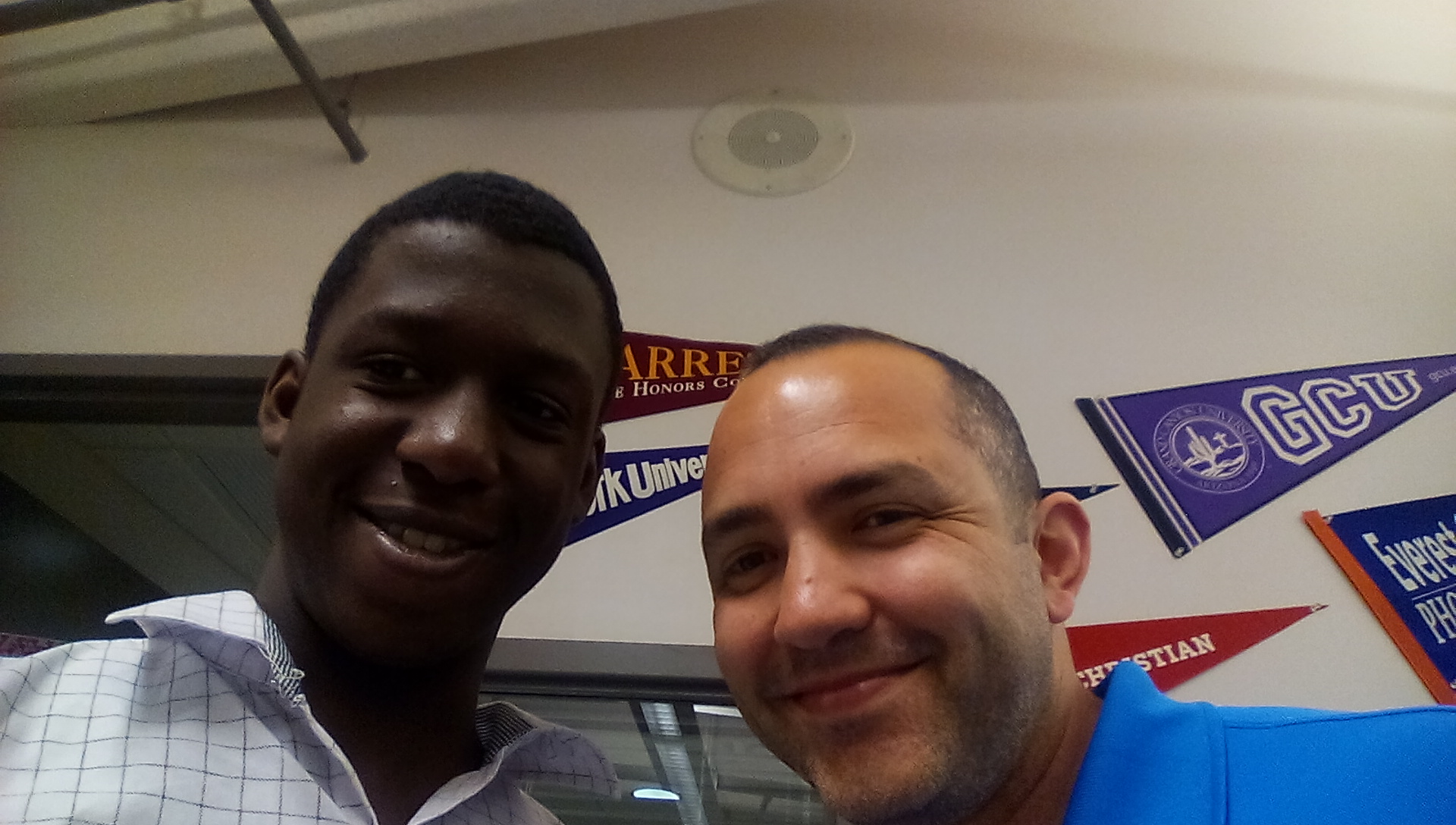 Meet Mr. Gironi, a very energetic and supportive person, one of the counselors at Agua Fria High School. He has been counseling in other schools for nine years and in Agua Fria for three years and he really likes it.  Here is what he has to say about Agua Fria so far.
"I love being a counselor," Mr. Gironi said. "There are a lot interactions with the students. I enjoy our community, I enjoy interacting with the families and being a support network to all the people who are involved in Agua Fria communities, so it's a pleasure and an honor."
Mr. Gironi is a very cooperative person as he provides academic and emotional support for his students that have the last name from O-J.
Mr. Gironi sponsors the AVID program. He is the person to go to to get more information about AVID.
I am not in the AVID program yet but this is what Mr. Gironi told me about the AVID program
AVID helps student find their full potential and encourages them to make a great impact on their society. Since we AVID students get to cooperate in groups and discuss their academic problems, Mr. Gironi is a great sponsor for this program. Since he loves helping students, loves cooperating with a friendly manner and loves to know much about people to help provide the necessary help needed to help them succeed.
There are many things a counselor does and no one way to describe it. "We provide support with social and emotional needs, academic needs for students, and help our students to be college and career ready," Mr. Gironi said. "We help you to be informed about your decisions here and your decisions for after high school."
He became a counselor because he wanted to help people. "I figured that working in schools would be a great way to do that," he said. So he went to California to get his bachelor's in psychology and a master's degree in educational counseling and guidance.
Mr. Gironi used to be a counseled in elementary and kindergarten student at Avondale Middle School and Michael Anderson School. Some of those same students that he worked with at the elementary schools are now his students at Agua Fria.
When Mr. Gironi was in high school, Mount Clare High School in California, his favorite subject was French. "I had a great French teacher," he said. "It was my favorite class. She had a kind heart, very caring and she was a great teacher. I enjoyed that class a lot."
He also took some Spanish as well but he doesn't really remember as much as he should and also took English.
Mr. Gironi played baseball for a year and was also involved in clubs like Metra Club. Metra club is a Spanish program that he was involved in and describes his experience by saying,"it was a great interaction, opportunities to be with people with similar interests, it was fun."
He was involved in his school, but said: "I was one of the students who were involved but not heavily involved. Looking back now I could have been more involved. I think I was minimally involved. I could have seen more things, so I want the students to get involved in activities and clubs to get more opportunities."
When Mr. Gironi hears the phrase "Be An Owl," he thinks: "Be An Owl is to embrace your community, to respect yourself and the people in your community and demonstrate positive characteristics, like responsibility, trustworthiness and integrity."