Seven Fun Things To Do Over Fall Break
By: Lauren Mitchell
@lauren_owlfeed
Don't know what to do this Fall break? Me too! I have some ideas that could be fun though. From sleepovers to hanging out by the pool there is a whole bunch to do! Don't just sit there and think about what you could do, go out and enjoy your week of no school. Here are 7 fun things to do this Fall break.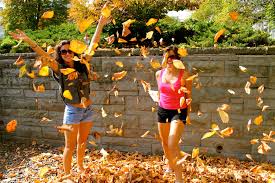 Summer is over and here is your last chance to go to go swimming before it becomes freezing. It will be a little chilly, but still enjoyable. Invite some friends over, hop into the pool, and enjoy a swim before it becomes too cold to handle.
Go hang out with some friends, you're not gonna be the only one who is bored. Invite some friends over and have some fun. Plan a sleepover with them and play games. Being with friends is always a fun way to spend time.
Do something to plan for Halloween, like decorate, plan/make outfits and make plans with your friends to go out and scare people. Doing this in your free time is way better than rushing last minute to put together a random costume or decorations.
This may seem childish, but camp out in your backyard. Invite some friends and sleep in your tent and tell scary stories. Play games and eat food just like if you were actually camping.
You could also volunteer for something, it's super fun to go out and help the community and now that the temperature is decreasing it won't be hot. You can feed the homeless, work at an animal shelters, do a community clean-up  and so much more.
This one may seem obvious but go on a road trip. There are a whole bunch of places to go and travel to like Sedona, Flagstaff, California, etc. Grab some snacks, money and clothes and hop into the car for some road trip fun.
Last, and the simplest, is binge watching, with all the new seasons of shows and movies coming on Netflix. Simply sit, watch, relax over Fall break watching your favorite shows and movies. You could also binge read your favorite books or our Owlfeed stories.
Have a lot of fun this fall break by doing any of these. If they don't interest you, there is so much more to do than these. Enjoy your Fall break!