My Experience with Agua Fria and Arizona
By: Kirsten Meyers
Follow me on Twitter @Kirsten.meyers6
I'm going to be telling you guys my personal experience with Agua Fria and my general thoughts towards this school, and the state of Arizona. It's a totally different  experience compared to everything else in Wisconsin and Oak Creek High School.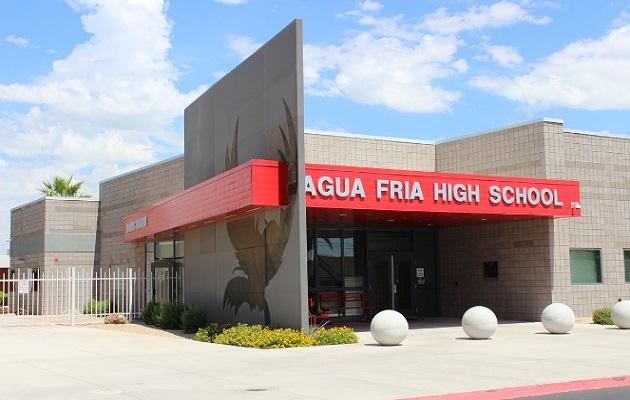 One thing that really stuck out was the difference between my old high school and this school. Agua Fria is totally outside and spacious, when my other high school was a closed off, big three-story building.
Another new thing that I experienced is that the weather is so different. Arizona is so warm and usually stays warm throughout the majority of the year. Well, in Wisconsin we go through all the four seasons. Usually when winter comes in Wisconsin we have to shovel snow from our driveways, sidewalks and roads just to get somewhere without being stranded and trapped in your house.
Another thing that stuck out was how different the people run spirit week. Agua Fria doesn't seem to care too much about spirit week (this is honestly just what I noticed, nothing is ever planned clearly or it's a last minute decision). At my old high school, they literally were so focused on spirit week that they planned everything a month before spirit week (homecoming and other big events).  All the different grade levels stuck with their colors and it never changed because that's odd to us to have our colors change every year. So, student council at Agua Fria is very different.
I noticed everyone likes driving cars with big tires even if they're ugly. I don't know why people here like this but I mean it's their choice. They can do whatever, but because they also don't have to deal with snow here. In Wisconsin, that'd be odd for us to see big tires on cars all the time.
I've also noticed that people here have a more laid back vibe than people in Wisconsin. For example, It's a lot easier to make friends here and they're not totally crazy about things. But, in Wisconsin you have a lot of cliques. People tend to stay to their groups and never change it up.
Follow me on Twitter @Kirsten.meyers6 to see more crazy opinions and DIYS!