What Not To Do: A Survival Guide To The Real World — Part 1 (Making Conversation)
By: Hope Laborin
@SherryBomez
Everyone has had some moments in their life they would be happy to forget and "sweep under the rug". I'm here to help you avoid those moments through my personal experience and people I've met along the way.
Today's topic will be covering what not to do while talking to people. This all based on personal experience and thus these tips can differ from person to person.
Conversation and interaction with others is important to you, society and the human psyche. However, there can be times when you have trouble interacting and conversing with someone. You tend to mess up your words and talk too fast, or you don't talk at all and it becomes an awkward conversation with no conversation. Or rather, an awkward silence. This can be easily avoided when you know what to do and how to act with different people.
Your first tip to avoid these situations is, do NOT ask personal questions about the person you're talking to. This may sound confusing but, let me explain. When you talk to someone it's okay to ask them to talk about themselves but, you don't want to be too intrusive.
Good example question maybe:
How was your day?

How are you?

Do you have pets?

What are you interested in?
Some bad examples maybe:
How much money do you make off of your job?

How are your relationships with other people?

What are your political views?

What is your stance on ____?
These are questions you may not want to ask people because they seem to be too personal and sometimes uncomfortable to answer. If you ask someone how much money they make from their job they might feel like you're trying to show off or put them down. Not everyone is proud of their earnings and it might be something they would rather keep to themselves. The same goes with relationships. A person might find this question to be invasive and they might not want to share that kind of information.
A big fire starter is when people are asked on their world or political views. You might not like what they have to say about these things and that's okay. You don't have to agree with everything a person says, but, it can lead to heated arguments between yourself and a person.
You could find yourself becoming defensive about a topic or it could be the other way around. These topics are not to be taken lightly. Someone could become offended from the words from others or yourself, and might have a few choice words to share during your argument depending on how heated it is.
If you find yourself in one of these situations try to steer the conversation into a different direction. Try to find common ground about you topic and exploit that and use it as metaphorical water to put out your metaphorical fire. An argument between friends is bad but an argument between a stranger or someone you just met is dangerous.
Another tip is to be aware of your body language while talking to someone. Many people tend to become self-conscious while talking to someone who they don't know. They tend to avoid looking directly at someone or they look too much at a person. Someone might also make the mistake of projecting themselves as more of a intimidating person than they intended.
Good body language while talking to be people can be:
Relaxed posture

Arms and legs uncrossed

Appropriated eye contact

Expressive facial features (to an extent)

Expressive hand movement (to an extent)

Non-expressive legs movements
Bad body language while talking can be:
Tense posture

Arms and legs crossed

Too much eye contact

Not looking at the speaker

Exaggerated facial features

No facial features

Exaggerated hand movements

Moving your legs while talking

Fidgeting with something while talking or being talked to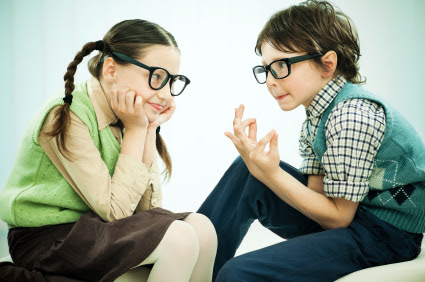 If you have a tense posture while talking to someone you can project yourself as being uncomfortable and not as interested in the conversation than you probably are. The same goes for when you cross your arms and legs. When you cross your arms you are creating a barrier of sorts between you and the person you're talking to. When talking, you don't want to seem closed off.
You should want to be perceived as an open person who is comfortable and confident in their own skin. This is especially important for interviews or when speaking to your boss and co-workers. Showing self-confidence can lead to good opportunities. It makes you seem better educated and shows strong speaking skills. Things that most people look for when hiring or promoting someone for a job.
My third tip would be when ending a conversation be sure to be firm and obvious when ending one. I can't tell you how many times I've tried to end a conversation only to be sucked back in either because we somehow got to another topic or because the person wasn't picking up on the fact that I wanted to stop talking.
Good ways to end conversations are:
After a person ends a statement give a simple answer and state that you must leave the conversation.

Give a reason to leaving the conversation examples can be:

"…Okay, well, I have work I need to do. It was nice talking to you… goodbye."

"…Alright, it was nice talking but, I have somewhere to go. See you later."

"… Well, it was nice talking to you but, I need to get going."
Bad ways to end a conversation would be:
Interrupting someone before they can finish their statement.

Ignoring signs that they want to end a conversation

Bring up a new topic

Just walking away without an explanation
You don't want to seem rude while talking. The end of a conversation is where most people see and judge your character. It's where most of your manners come into play and is crucial to the conversation. This can serve as future validation for talking to again.