Obama Farewell Address
By: Lenny Sosa
Follow me on Twitter: @LENNY_OWLFEED
JANUARY 10, 2017- Through laughs, cries, and the "4 more years!" chants, our soon-to-be ex-president Barack Obama was received at his farewell address at the McCormick Place in Chicago, Illinois, a city where it all began for him. He expressed his want for the nation to prosper even more in the coming years and that we as the people needed to stay together united.
President Obama began his speech in between applauds thanking his supporters for the treatment his family had received the past few weeks, saying, "Michelle and I have been touched by all the well wishes we've received over the past few weeks," showing humbleness in his heart and appreciation for those who've stood graciously by him for 8 years. He had also taken his time to thank Vice President Joe Biden who he recalls as someone who became like a brother to him and that he was glad he chose him as his VP.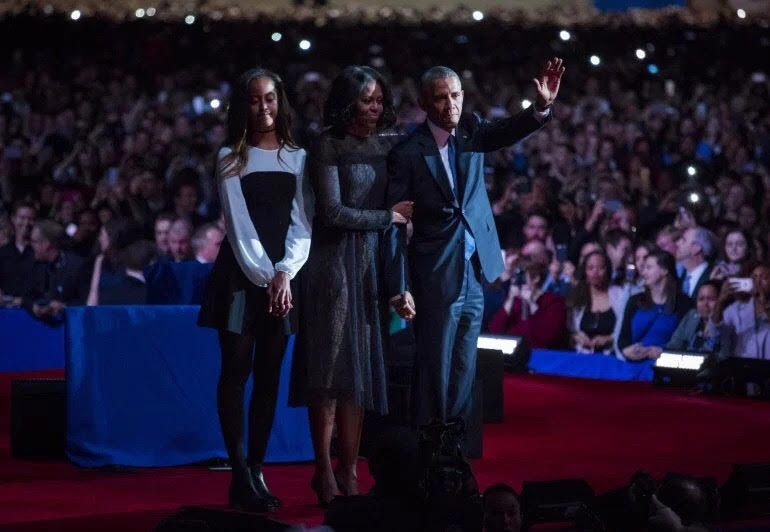 Furthermore Obama gave his perspective on immigrants who he says "will represent a larger share of America's work force," which seemed like a jab at soon to be President Donald Trump who had ran a "racist campaign" as labeled by the some members of the media. But in all this, Obama kept hope that the American people were the ones who made it all possible for him to accomplish all that he did, stating, "you were the change." Many chants and various social media posts of gratitude were directed towards him in this time of fear for many people unsure of what is to happen as Trump enters office.
CNN labeled it as a "nostalgic night," saying the president stood "tough and unapologetic after 8 years of tough work," emerging more like a champion by the end of the night. Through all the judgment he's faced such as his rise to becoming the first African American president he proceeded to state all he and his administration had accomplished over the years, such as picking the nation out of turmoil in the 08' recession, shutting down Iran's nuclear weapon's program, and capturing the mastermind behind the 9/11 attacks.
One of the main highlights of the speech were the words given to his wife, Michelle, who he proceeded to thank, saying, "You took a role you didn't ask for and made it your own with grace and grit and style and good humor." Praising his wife for standing by him at all times which brought tears to the nation's eyes and his own daughter Malia as well.
At the end of the speech, Obama concluded with words of hope and tears in his eyes as "it felt like an end of a dream," as labeled by the Chicago Tribune. And with this it is with a heavy heart and respect that we say goodbye to President Obama who had a great 8-year run.