Waitress Review!
Alexis Nomorosa
@OwlFeedAlexis
"Waitress" surrounds Jenna Hunterson, a waitress working in the deep south that is in an unhealthy marriage with her husband Earl. She becomes pregnant and is afraid of having a child with her husband. Jenna ends up having an affair with her gynecologist, Dr. Jim Pomatter. Due to this, Jenna enters a pie eating contest in order to attempt to escape the situation.
The musical is based on the 2007 indie film "Waitress", which is directed by Adrienne Shelly. The movie follows a similar storyline to the book, as where a waitress is trapped in an unhappy marriage and attempts to leave by entering a pie eating contest.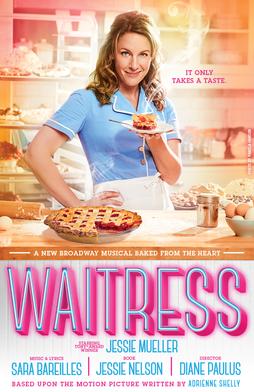 The musical is for older audiences, as there are some innuendos and euphemisms that younger audience member would not understand. Despite the target audience, the show is surrounded with an uplifting yet realistic atmosphere that leaves the audience craving for more.
Pop singer Sara Bareilles (known for singing "Brave" and "Love Song") wrote the songs for the musical. The music is not traditional Broadway music, as it brings a contemporary pop element to the soundtrack. This makes the music sound modern and new, which adds more depth to the musical. In an interview with Elle, Sara Bareilles revealed "The emphasis on the storytelling, but the arrangements and orchestrations can be really varied." Bareilles revealed that even though writing for a musical is difficult, it has proven to be very enjoyable. This adds even more depth and character to the show.
Even though the music is essential, musicals would not be anything without the actors, and lead actress Jessie Mueller does not disappoint with her performance. Jessie Mueller plays Jenna Hunterson, and to say she is committed is an understatement. She depicts "a southern belle with a sad story" perfectly. Sara Bareilles wrote "She Used to Be Mine" to be Jenna's theme song, and it demonstrates how Jenna is struggling with accepting the emotional burden of being pregnant.
Jessie Mueller won a Tony in 2014 for her performance in "Beautiful: The Carole King Musical".
`The musical itself is not perfect; there are flaws in the side characters and even Jenna's motives. However, the show is honest and real. Something that Broadway shows don't typically cover. This makes "Waitress" a complex show, and the music adds to that complexity.
"Waitress" is highly recommended by many critics, and if you are interested in buying tickets, go to http://www.broadway.com/shows/waitress/ to purchase tickets.