Lady Gaga's Performance At The 2017 Super Bowl
By: Timmy Johnson
Follow Me @Timothy_OwlFeed
On February 5, 2017, the Super Bowl LI at the NRG Stadium in Houston, Texas, the New England Patriots defeated the Atlanta Falcons in a terrific performance. Lady Gaga stole the show during the game's halftime performance. Many people were amazed and some reacted positively, however some people criticized the performance.
Gaga started her performance by singing "God Bless America", which then turned into "This Land Is Your Land." She jumped from the roof held by wires and then concluded her intro by quoting from the Pledge of Allegiance, specifically the line "One Nation under God, indivisible, with liberty and justice for all", putting a clear emphasis on the words "for all." She began the main part of her performance, by singing the choruses for many of her popular songs, including "Poker Face," "Just Dance," "Telephone," and more.
She also sang "Born This Way", although, instead of singing the chorus, she sang some lyrics from the end of the song, which were "No matter gay, straight, or bi, Lesbian, transgendered life/ I'm on the right track baby/ I was born to survive." These lines are important to the show as it expressed Gaga's support for the LGBT community.
While Lady Gaga began and ended the show, drones could be seen flying all around her, which made her show more interesting. The drones were pretty much like her "backup dancers," as they were synchronized to move along to Gaga's singing. However, none of it was live; the drones were pre-recorded to comply with the laws of drones flying over people. The drones were choreographed by Intel Corp., and it showed everybody how companies are starting to use unmanned aircraft in many unexpected ways.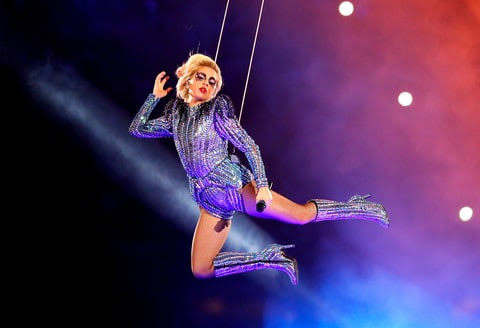 Lady Gaga's performance at the Super Bowl gained many different reviews from different people. Fellow singer Katy Perry tweeted "I want jumping gifs stat! Bravo @ladygaga," showing her support for Gaga before her performance.
Nick Jonas wrote: "Wow ladygaga killed the halftime show. Well done Superbow."
Even Hillary Clinton showed her support, saying "I'm one of 100 million #SuperBowl fans that just went #Gaga for the Lady, & her message to all of us."
Lady Gaga also gave a shout out to all of her fans before her performance, saying "I want to say thank you to my fans for cheering me on all these years," and "There will not be any guest performers tonight, I'm doing these 13 minutes solo!"  
However, some people criticized Lady Gaga's performance. For example, many people hilariously compared Lady Gaga's performance to the scene in The SpongeBob SquarePants Movie when SpongeBob sang "Goofy Goober Rock," saying things like, "SpongeBob did it first" or "Lady Gaga wanna be SpongeBob so bad."
Some people also criticized Lady Gaga's jump during the Super Bowl and many made fun of it. However, the majority of the reactions on social media were comedic rather than negative.
Lady Gaga's performance had many different reactions. Some people were amazed by it and watched the scene with excitement, while others seemed more bored and considered it dull. I think the performance was pretty good, and I look forward to what the next Super Bowl halftime performance will be. Will Lady Gaga return? Or will she let somebody else take the spotlight next year? Until then, Lady Gaga's mind-blowing performance will definitely go down in history as one of the most interesting Super Bowl performances ever.