"Milk and Honey Poetry" Book Review
By: Viviana Flores
@vfjournalism
Milk and Honey is a touching poetry book by Rupi Kaur. She breaks the book into four different sections. She uses her words to tell a story of her life and relationships.
This book was very intriguing as it pulled me in the second I opened it. These collections of poems not only showcase the aftermath of an ending relationship, but how much it can inspire a person to grow.
It is a little on the short side with only 204 pages, but it had no problem keeping me engaged.   
The book is split into four sections called the hurting, the loving, the breaking, the healing. In each of the sections Rupi shares poems that have to do with things that she experienced in her love and life.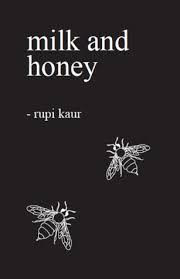 The hurting: Rupi shares all that went wrong in her life. She focuses on the parts of her life that hurt.
The loving: Rupi shares all that went well in her life. She focuses on the good parts of her life.
The breaking: She shows how vulnerable heartache can make a person.
The healing: She ends her journey in trying to find peace.
Rupi pours her heart out in Milk and Honey. This book takes a person through all of the raw things that happen in life. This book makes it almost impossible to not want to reflect on your own life. She shares both the light and the dark in what shapes who a person becomes.