The 2017 Oscars Mix-Up: Award Given To Wrong Movie
By: Timmy Johnson
On Sunday, February 26, 2017, the 2017 Oscars aired at the Dolby Theater in Hollywood, California. This year, it was hosted by Jimmy Kimmel. Like other awards shows, the Oscars was full of fun surprises sure to keep the audience watching.
One of the biggest surprises, however, is the fact that La La Land, the 2017 drama/romance film starring Emma Stone and Ryan Gosling, did not win Best Picture. Instead, that reward went to Moonlight, a different drama film.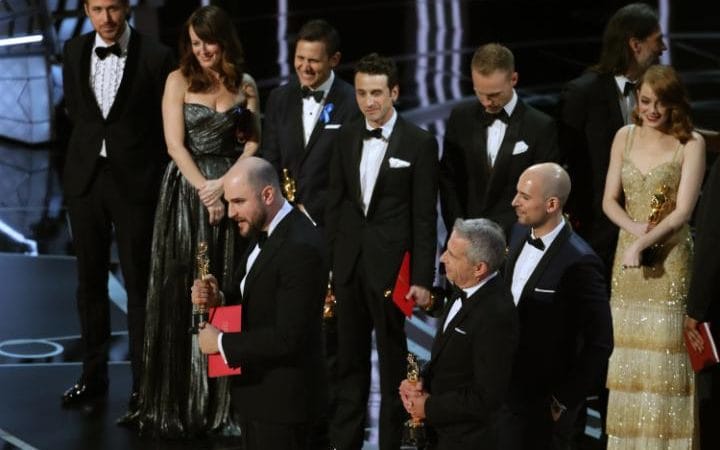 Indeed, many people were confused about the mix-up, as La La Land had previously broken records and has won many other awards. However, the reason why it lost to Moonlight for Best Picture was overall pretty confusing.
Apparently, the presenters Warren Beatty and Faye Dunaway read the wrong cards at the Oscars, stating La La Land instead of Moonlight. The producers of the former film were mostly through with their speech at the show before the producers realized the error in reading the cards.
When Emma Stone was giving her acceptance speech at the awards, having already won Best Actress, along with the producers on La La Land, and when the news came that they didn't win, Stone couldn't help but smile.  The stars and crew simply shuffled off stage and gave their awards to the Moonlight team, who came on stage.
Backstage, Stone said:  "I was holding my best actress card the whole time so whatever story you heard, I don't know what happened, but I wanted to tell you that. When it happened I was just on such a buzzy stage, I was already on another planet." She also said "I think it's a good outcome but a very strange happening for Oscar history." Overall she did not seem too upset, instead she was rather surprised.
The producers of the show were pretty embarrassed about the whole mix-up involving the award going to the wrong movie. What really happened was the official accountant, Price Waterhouse Coopers, gave Dunaway the wrong envelope when announcing the winner for best picture.
"We sincerely apologize to 'Moonlight,' 'La La Land,' Warren Beatty, Faye Dunaway, and Oscar viewers for the error that was made during the award announcement for Best Picture," the firm said in a statement.
"The presenters had mistakenly been given the wrong category envelope and when discovered, was immediately corrected. We are currently investigating how this could have happened, and deeply regret that this occurred," said Coopers.
Overall, the whole incident was very confusing, but will still go down in history as one of the most interesting events in the Oscars yet. Hopefully this will not happen again, however, as some people were mad about the mix-up. Some fans did state that La La Land should have really won instead, while others indeed did prefer Moonlight instead. It caused controversy, but besides the mix-up, the rest of the awards show was overall pretty interesting.