Alexis Nomorosa
@OwlFeedAlexis
   The new musical Amelie is based off of the 2001 romantic comedy film that carried the same title and storyline. The musical begins with Young Amelie (Savvy Crawford) born to a germaphobe father, Raphael (Manoel Felciano), and neurotic mother, Amandine (Alison Cimmet). Due to her parents being paranoid, they begin to homeschool Amelie and cut her off from the outside world. Years later, she begins to feel bored of her home and her relationship with her family and she decides to leave home. As an adult, Amelie (Phillipa Soo) meets a young man named Nino (Adam Chanler-Bret) and she starts to fall in love with him.
The original Amelie was French and fanciful, and the musical adaption brought the same element of quirky ente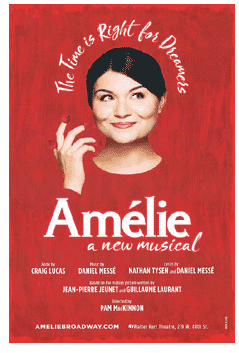 rtainment. Phillipa Soo portrayed Amelie in an almost fairy-like manner, which added a new element of fun to the musical. Her acting was impeccable, and her singing uplifts the musical as a whole. Her song "Times are Hard for Dreamers" demonstrates her character's pain and turmoil beautifully and clearly. With Daniel Messe composing the music and lyrics (with help from Nathan Tysen), they composed a delightfully playful soundtrack that entrances audiences. With the music and the acting, audiences will be enthralled by this French and fanciful performance.
Since this musical is fairly new, there is not much content available to review at this point. This is merely a prediction based on the content available on the internet. This musical opened on March 9th and tickets to see the show are available at www.playbill.com