New "Cars" Movie Coming This Summer
By Timmy Johnson
Back in 2006, the creative minds behind Pixar released the film Cars, the story of a conceited race car named Lightning McQueen who gets lost in a sleepy town on his way to a big race and realizes he shouldn't be so selfish; he should relax and enjoy life.
Five years later in 2011, a sequel was released titled Cars 2. This film followed a completely different path, focusing instead on Lightning McQueen's best friend Mater, who gets sidetracked and begins working as a secret agent fighting against evil while McQueen races around the world in the first ever World Grand Prix (a racing event which features three races in Tokyo, Italy and London).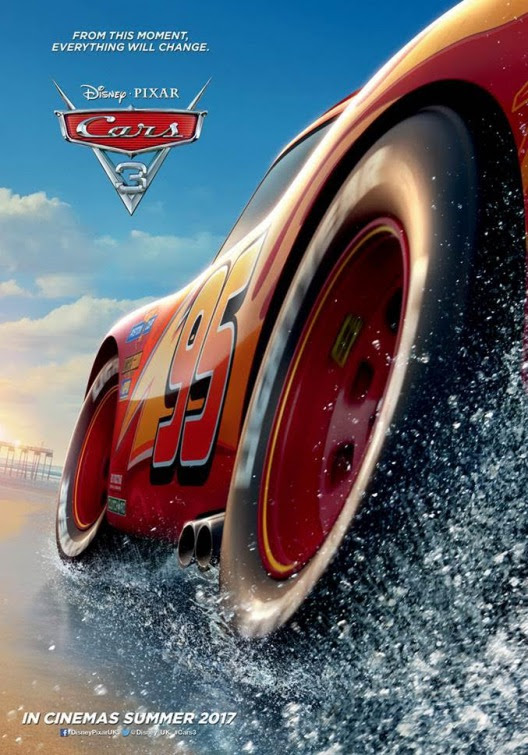 Both of these films received negative reviews on Rotten Tomatoes, although they were both loved by many fans, including me. Regardless of these films not being as praised as the Toy Story series, Finding Nemo, The Incredibles, and other Pixar films, I loved Cars and I practically grew up with this franchise. I owned much of the merchandise (toys, cups, plates, etc.). I owned the video games. I watched the movies over and over. This franchise was my childhood. Which was why I was quite excited when Pixar announced Cars 3.
Believe it or not, Pixar is working on a third film. After Cars 2 became Pixar's lowest-rated movie, the company has learned better than to follow the spy theme, which is why this movie will return back to the racing theme, where it belongs.
Just by looking at the movie's teaser trailer, which came out last November, everybody got the impression that this film could possibly be Pixar's darkest film yet. The trailer depicted a race at Los Angeles International Raceway, with some newer cars on the track, identifiable by the sound of their electric engine and their sleek appearances.
The trailer ends with our hero McQueen rolling over in quite an intense, dark crash. The trailer then ends and the words "From this moment .. everything will change" appear during a black screen.
It is not quite known what happened to McQueen after the crash, and the trailers that came out afterward (which were not as terrifying as the teaser trailer) did not even address the issue. This leaves many fans wondering one question: Does McQueen die in this film?
Pixar is known for its many tear-jerking moments (for example, the "Carl and Ellie Fredrickson married" montage in the beginning of Up, the incinerator scene in the climax of Toy Story 3, Sulley saying goodbye to Boo near the ending of Monsters, Inc., and more). While the Cars series did not really contain any real emotional scenes, is is possible that Cars 3 will pull this trick on us to really keep us into the film? Perhaps all that is missing from the series is some real emotion to get the audience's attention.
Does McQueen actually die, though? Pixar is known for killing off characters to really bring out the emotion in the audience, such as Marlin's wife in Finding Nemo, Ellie Fredricksen in Up, Arlo's father in The Good Dinosaur, and more.
Typically, these are family members or mentors. But would they really kill off the protagonist right in front of our face? I highly doubt that they would, since what kind of an ending would Cars 3 have if McQueen was actually killed?
Overall, being a diehard fan of the Cars series, I am very excited for the new movie, and I am glad that they are going back to the racing theme where it belongs. While I very much enjoyed Cars 2 and had no problem with the new spy theme, racing is where the series's heart really belongs.
Cars are made to drive and race (depending on what type of car) anyway, not to go on crazy secret agent missions defeating bad guys with weapons that pop right out of their body. Not bad, Pixar, but you can do better.
Cars 3 is the true sequel that Cars needs. Anybody that is still a fan of the series even after the commercial failure of Cars 2 should go watch the third movie as soon as it comes out.
Cars 3 races into theaters June 16, 2017. To see the notorious teaser trailer of the movie depicting McQueen's horrific crash, you can check it out here.