Don't Go Without This Book For 'One More Day'
By: Angela macias
@angela _owlfeed
The novel "For One More Day" by Mitch Albom is a story of a man and a mother who he reconnects with again, but his mother has died years ago. That's what makes the story different from most. It's about a man who wants to die and speaks to a woman who is already dead and they talk about how they have so much to catch up on and he relives his past with his mother.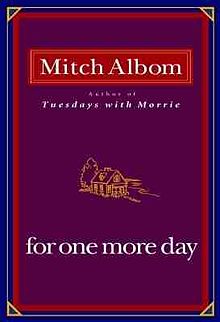 He re-experiences his childhood when his father left and when his mother took him to his first day of school, and of the Halloween where he dressed up as a mummy and how that turned out to be a disaster. He looked at the moments when he took his mother's side and when he did not.
Looking back now, he had really hurt his mother. He had not realized how much she worked. He sees her now as a single mother who had two children, worked to put food on the table, and had women in the town all dislike her because she was both pretty and alone.
Throughout the book Charles hears someone come after him. Not knowing who it was. But eventually it was what woke him up. He then realized that it's not the end of life, for it has lots to offer, so he stops trying to end his life and finally lives it. The only thing was, Charles died three months after this experience. But he had still lived his life with hope for those last three months and he had a chance to see his mother for one more day.