Meet Alejandra Espinoza
By: Clinton Barney
Follow Me on Twitter @OwlFeedCJ
Meet the incredibly smart and outgoing Alejandra Espinoza, senior at Agua Fria High School, and the newest lifestyle reporter and Twitter manager of OwlFeed. Being as smart and as talented as she is, she should be queen of the school right about now.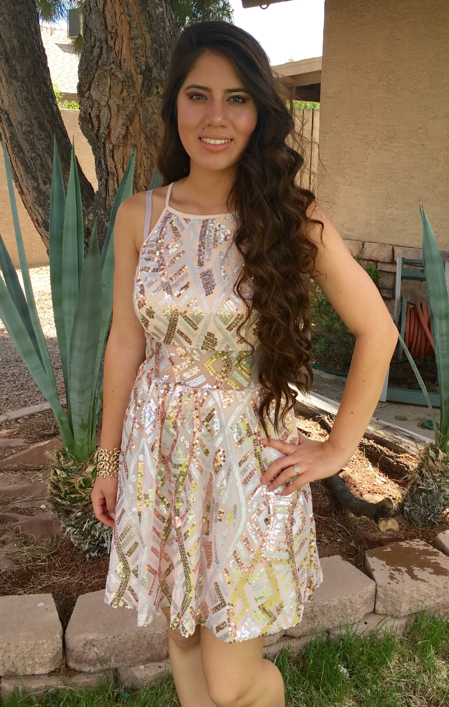 On top of her roles and responsibility at OwlFeed, Alejandra is also a member of Student Council, president of Interact Club, Writing Center tutor and head of public relations, and National Honors Society officer. Despite her busy schedule and commitment to multiple clubs, she is a straight A and B AP student. She is taking three AP classes this year: Calculus BC, Government and Literature.
She joined Agua Fria's journalism program mainly because she loves to read and write. She is thinking of pursuing something in writing as a career after high school. "I took all of the English electives that I could," she said, "so [I'm] just exploring my options."
After she graduates, Alejandra wants to go to either one of the three in-state colleges, or to a college in California. She's "not sure" what exactly she wants to major in, but she's been considering either journalism or law practices.
When asked what she wants to do during and after college, she said, "I'm not too sure but I do know I want to help people. I want to write about topics to give minorities a voice."
Alejandra may be a people-person, but she also loves dogs. She has two of her own: one male boxer and a female chihuahua. During the interview, she was fantasizing over goldendoodles (a breed of dog), but she was sad because she doesn't have one.
Before coming to Agua Fria, Alejandra attended Lattie Coor Elementary, now known as Avondale Middle School, from kindergarten until eighth grade promotion. It was during sixth grade when the once shy little girl joined the dance club and finally began to break out of her shell, which she would continue to do at Agua Fria.
Also, in eighth grade, Alejandra was one out of a few select students from the Avondale School District that took 9th grade math and English classes for high school credit while still in middle school, which was known as the Fast Track Program.
Having attended Agua Fria for all four years, Alejandra knows what it means to #BeAnOwl. "For me, to Be An Owl means to take pride in what you do inside and outside of school. It means to build a good sense of of community and those around you," she said.
During her free time, Alejandra likes going camping in Northern Arizona, specifically Flagstaff. She also likes to read, specifically young adult fiction novels, and write.
Being a member of the Writing Center and the journalism program's newest reporter, you better believe that she can write, and damn well too. Make sure to check out Alejandra's stories on OwlFeed in the coming weeks.