Opinion: Locker Policy
By: Dayshia Stratton
Lockers are either loved or not cared for at high schools, so when lockers weren't provided at Agua Fria High School this year there was a wave of curiosity and anger. Agua Fria is not the only school trying to be lockerless. There are many reasons as to why they aren't provided at other schools and how others feel about the absence of locker use.
Some kids do not have any feeling toward the lockers not being used this year. Emanuel Curry, a Senior at AFHS was never really affected by lockers, so when they were not being put to use he almost didn't notice. He noticed that ¨there isn't as much congestion in the hallways when you're trying to walk to class.¨ It is easier to get about to your class without having to dodge through people trying to get to their lockers.
Most students either kept their books in classrooms, at home, or in their bags. Like last year when lockers were still able to be used. But for the most part most students felt neutral towards the lack of lockers.
Most students that are generally affected by the lack of locker usage were the students who regularly used them. They have to try to find new ways to keep track of their stuff without having it on them all the time. Students who carry all their books in their bags have said they had an increase of pain in their back and shoulders and have a harder time trying to focus on school when they are in pain.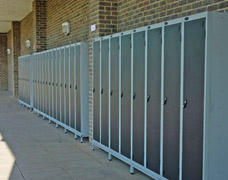 Mr. Molina, the principal at our school is trying to set up a program for the students who want a locker if there is enough students who do want one. "This is not a policy though.." he said. 
This is being done at many schools across the United States. It has been proven by many of these schools, that there is less disruptions during class without lockers, tardiness has decreased,the students are more focused  in class, and the whole atmosphere of campuses all around the United States have improved.
Lack of locker usage is becoming popular across the United States. Many schools are trying to find alternatives to be able to put less weight on students.