By:Antawn Salinas
Twitter:@OwlFeedAntawn
Ready Player One, if you don't know, is a novel written by Ernest Cline about a contest in a virtual reality world called Oasis and is set 20 years from now in the future. After one player finds the first key of the contest, the race is on to find the other two keys in this pop culture obsessed future. It's a really good book, and I highly recommend it, especially if you have a massive knowledge of movies, videogames, and comic books like me, but I'm not here to review it.
I'm here to analyze it (THERE WILL BE MINOR SPOILERS FOR THE BOOK AND MAYBE THE MOVIE) and see if it will work as a movie. Not if it will be either good or bad, but if it can actually work, because in our world today, films based off of books could go either way. They could either be really good and decently accurate to their books, like The Martian or IT (2017). Or they can be really bad and give their book the middle finger, like The Dark Tower or even books that shouldn't have even been turned into movies in the first place ('cough' Fifty Shades of Grey 'cough'). So, the way I'll do this is seperating my analysis into different sections. This is going to be a long one, so get comfy.
Also, I'm calling this new series Rocket Surgery. Not for any specific reason. I just think the phrase is hilarious.
Background: Like I said earlier, Ready Player One is a novel written by Ernest Cline in 2011, and is known for a few things. The first is that it has a ton of pop culture references. From movies to videogames to Dungeons and Dragons to anime and etc. They play an important role in the story, but they aren't the complete focus of the book.
The second is that the story is about Virtual Reality, long before the Oculus Rift, the PSVR, or the HTC Vive, which makes the story more relevant than ever. While the story is known for these things, the story can stand on its own. If VR wasn't relevant today and there were not any pop culture references, it would still make for an entertaining sci-fi/fantasy story. It makes for a great, well-contained, one-off story(that's if they don't make a sequel. Please, DON'T MAKE A SEQUEL!!! It's fine as is).
Cast and Crew: There are two incredibly big things about the cast and crew of the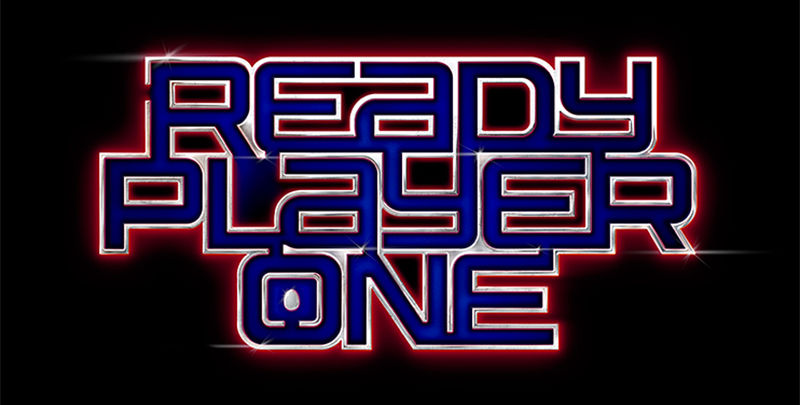 movie. The first is that the author of the book Ernest Cline is one of the writers of the film, which means he's pretty involved. The second is that the director is Steven Spielberg, who in my opinion, is the best person they could have gone with. No one expresses wonder and amazement like him.
They also have Tye Sheridan (Mud, X-Men:Apocalypse) as Wade Watts (aka Parzival), Olivia Cooke (Me Earl and the Dying Girl, Bate's Motel) as Art3mis, Simon Pegg (Star Trek Beyond, The World's End) as Oasis co-creator Ogden Morrow, and Mark Rylance (Dunkirk, The BFG) as Oasis creator James Halliday.
They also have T.J. Miller (Deadpool, Silicon Valley), but as a character that's not in the book. It probably sounds like a good thing that Ernest Cline is heavily involved in the movie, but on the other hand, Stephen King was heavily involved in The Dark Tower and not involved at all in IT (2017). Look at what ended up being the more successful film. But, maybe it will go the other way and be good because he's a part of it.
Changes They'll Probably Make: I don't think they will keep all the references that are in the book. Since Warner Bros. is doing it, and since it's a movie, they are limited property wise. I don't think they will include certain references to stuff like Star Wars, Star Trek, or anything by Disney. But, the Millenium Falcon was in The Lego Movie, so who knows.
Another thing I don't think they will keep is the swearing and the more adult content. While they go hand and hand with the messages of the story, I say for the most part, Steven Spielberg can find a way to go without them. I wish they would keep them in there, though, but the movie will most likely be PG-13 and marketed towards the crowd that watches the newer Marvel and Star Wars movies. It's one of the reasons why I wish they would simplify the movie rating system, but that topic is for another day.
Things They'll Probably Keep: This is tricky, because you can easily have an idea of what they are going to take out in a movie, but it's hard to know what they will keep. I'm talking beyond the pop culture references and the action sequences. One thing I feel like they need to keep is the relationship between Wade and Art3mis. I won't spoil what happens, but it's a very important for the development of these characters, and I hope they make it work in the movie. I want them to actually develop the characters, and not make them geek stereotypes.
Another thing they need to keep is the messages the story presents, including the stuff about our society's over reliance on technology. It's something that's relevant, and while it's a message that's a little overdone (look at The Matrix, The Terminator, Fight Club, or Ex Machina as examples), the book for RP1 points in both a negative and positive light, and something I hope this movie takes advice from is The Martian.
It's a book/movie that has a ton of comedy, great characters, shows science in a great light, as well as the most important thing in my opinion: it's really upbeat and FUN. Over the past few years, there have been many great Sci-Fi movies like Snowpiercer, Looper, and Logan, but they have always depicted dark and grim futures. For RP1, I hope they make it a fun film that has it's sad but also many fun and exciting moments.
Will Modern Audiences See It: I feel like this movie is a gamble. While it's based off of a book that was reviewed pretty well, they have Steven Spielberg in the director's chair, and Ernest Cline is heavily involved, the book hasn't reached "household" name status.
If this film gets decent to good reviews, I think it will at least make its budget back (the budget of the movie right now is unknown). But if it ends up getting terrible reviews, like, say for example, The Dark Tower, word will get out that it's bad, no one will see it, and it will be a box office bomb. If Warner Bros. wants this to be a hit, I recommend that they let Spielberg and Cline do what they want and promote the film in a smart way.
My Biggest Concerns: One of my top concerns is the runtime. The book is almost 400 pages (385 to be exact), which is a decently sized book. But lately, in my opinion at least, there's been a lot more movies with shorter runtimes, even though they are bigger stories.
One of the reasons for this is because most of the time, the studio is expecting to make future sequels, like lately with Warcraft and Ghostbusters (2016). But, unlike something like The Hunger Games, or Harry Potter/Fantastic Beasts, or Twilight(THANK GOD IT'S NOT LIKE THAT ONE!!!), RP1 doesn't have a crap ton of sequels. At least to my knowledge, this won't be a two-parter or anything. This is one of times where I hope the movie is over two hours, that is if they follow the book closely.
My other big concern is the pop culture references. I'm fine with how they are in the book, even though the main character spends a lot of time explaining certain references. I think it's fine because it's a 400 page book, and you can do a lot in that. But if the movie is going to do it, it could easily be obnoxious and repetitive really quickly. I feel that they should be in the background or quick little references like something along the lines of Scott Pilgrim Vs. The World or Wreck-it-Ralph. I really hope this movie is more like those and not Pixels(I really, really hate that movie).
Conclusion: Even though I have concerns, especially after reading the book, I'm still really excited to see what Steven Spielberg and the rest of the cast and crew does with Ready Player One. It can work as a movie if they play their cards right, but with most other book-to-film adaptations, it can easily fall apart. We'll just have to wait for March 30th, 2018. Right here is where you can check out the San Diego Comic-Con 2017 trailer and right here is a link for Amazon if you want to buy the the book.