Review of Kingsman: The Golden Circle
Jaeden Andrade
@jae_owlfeed
I finally saw Kingsman: The Golden Circle this past Sunday and I was blown away. So before I say anything at all…
There are SPOILERS AHEAD.  This came out 3 weeks ago just saying.
The plot for this movie is as follows, Poppy Adams, a businesswoman who's only products are drugs, laces her drugs with poison and basically holds the world for ransom.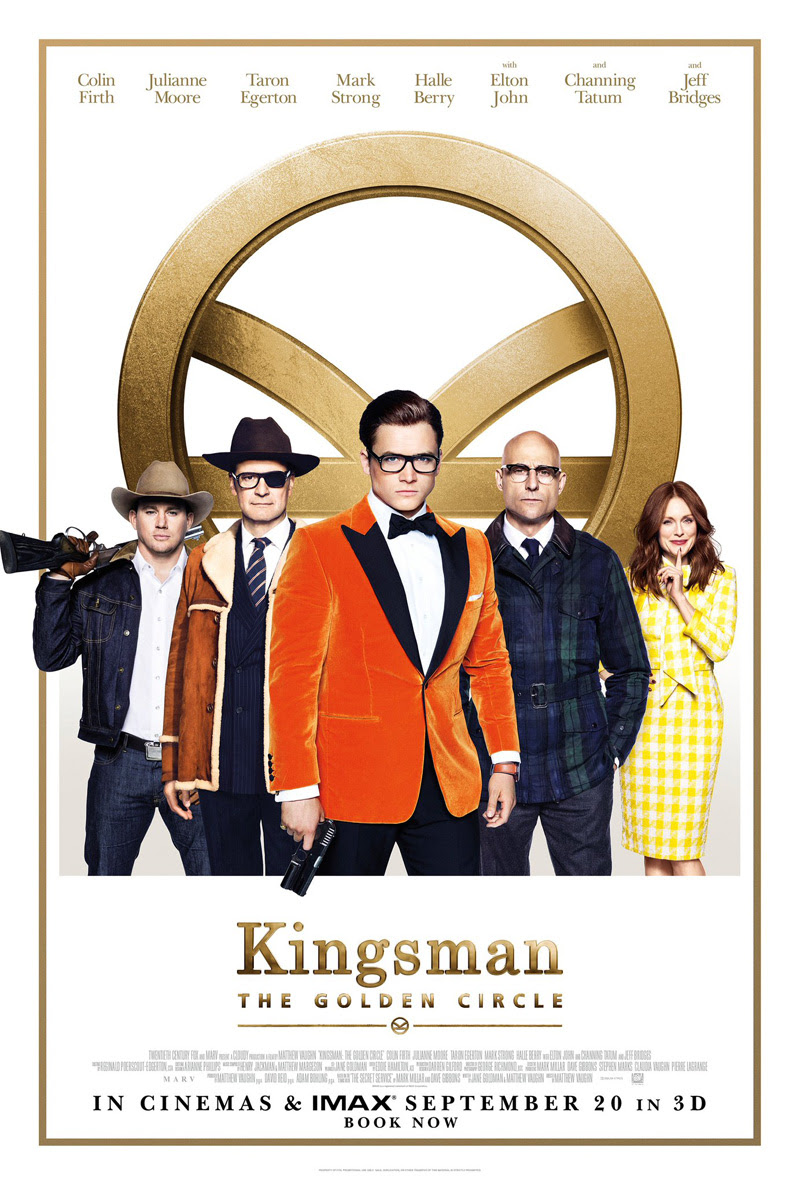 She blows up many of the Kingsman locations and almost every Kingsman die except Merlin and Eggsy. Since they have literally nowhere else to go, they decide to follow their "doomsday protocol", as I lie to call it, and it takes them straight to Kentucky to meet their American cousins the Statesman. Together they take down Poppy and ultimately save millions of lives.
When we meet the Statesman for the first I was immediately gravitated towards the aura of cool that was surrounding them constantly. One Statesman, Whiskey, uses a lasso and whip for his weapons and Pedro Pascal really sells it for me. He almost stole the whole movie in my opinion because his character is basically Burt Reynolds in the 80's. His lasso also can turn electric and it acts as a lightsaber would but just a little more mobile.
My initial thoughts on this movie were "I can't wait until the next movie comes out" and "Hopefully they don't make the same mistake as the last movie".
What I mean by that is in the last movie Harry Hart was killed off in the second act of the movie and he was brought back in this movie. This movie also kills  off Kingsman, they end up killing off Merlin and Roxy.
Personally I was more saddened by the death of Merlin because in the movie, he saved Eggsy from a mine by trading spots with him on the bomb. While on the bomb he was singing "Take me home, Country roads" by John Denver to distract henchman from Harry Hart and Eggsy. Once they got close enough to him he stepped off the bomb and he inevitably blows up.
This happens in the beginning of the third act, but what really stood out to me happened in the first 5 minutes. There was a car chase while Eggsy and Charlie, the guy who failed the trials to be a Kingsman in the last movie, were fighting in a cab. What really stood out to me was that the whole action scene was scored by Prince's "Let's go crazy". To my knowledge, this is the first movie that had a prince song in it that Prince wasn't directly a part of.
Harry Hart did die in the last movie, but was brought back in this movie and while I do appreciate that he was back,  some other Kingsman died in this film I hope they don't try to bring back another character in the next film. I feel like if they bring back Roxy in the next movie I wouldn't be able to buy it, it would feel way too forced.
Finally the villain, Poppy Adams. I think that this was a great villain and a very believable in the 21st century. Poppy is in love with 50's nostalgia and her whole evil lair is just different things that were popular in the 50's including a salon, bowling alley, theater, and of course a diner. She even has her henchman wearing Letterman jackets.
Overall I love this movie but it does have it's share of problems like the death of characters that I believe the filmmakers will regret later and ultimately this film has a lot that goes on. Once you sit down and watch the movie all the problems aren't immediately visible because it's just a fun spy movie.