Lauren Albrecht
@OwlFeedLauren
You're scrolling on Netflix, you find an obscure Netflix Original Series with the title screen as a picture of broken glass surrounded by a smiley face seemingly carved by the shards. Curious, you click the play button and begin watching the first episode of a show that will soon change your life.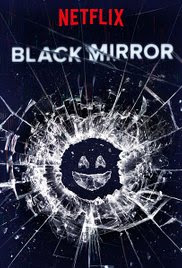 Ten days later, You rise up from the cave of your bedroom (you would've finished the series sooner, but you needed time to recollect your sanity after each episode) with a new perspective of technology, death, life, and existence.
This is the most underrated show of all Netflix Original Series, this is Black Mirror.
In case you have never seen the series, Black Mirror is "a sci-fi anthology series [that] explores a twisted, high-tech near future where humanity's greatest innovations and darkest instincts collide," according to the Netflix streaming website.
Technically, it's not a Netflix Original Series as it was first written by Charlie Brooker, an English satirist, broadcaster, and writer when BBC aired the first series. Netflix soon bought out the sci-fi television show and created the third season in 2015.
However, this is not simply a show for those who enjoy the science fiction genre.
As someone who favors a wide variety of movies and television, I am not specifically into the sci-fi world.
However, Black Mirror was different from any sci-fi I have ever watched before. Although it is compared to other shows such as "The Twilight Zone" and "X-Files," there was something about it that brought all aspects of many television series into one.
There was sci-fi, and horror, and thrillers, and even some comedic aspects as well. Because it is a series with an uncomposed set of characters, just about everyone can relate to at least one of them in an episode as they go through their dark and thrilling adventure involving the inner evils of technological advancements.
Even though every episode is set in a different dystopia, the series provides several specific themes and theories that can make one ponder about their purpose and what their resources can do for them, both positively and negatively.
It challenges social norms and political conflicts with other parts of the world. It causes one to question the unquestionable, to recognize the injustices of their society through other fictional societies.
It makes one wonder whether or not the human race is evolving in the right direction.
As a viewer for the first time, it is probably best to warn that some episodes can get pretty confusing, especially if you do not find the hidden moral of the story or miss something from the beginning of the episode.
Do not let this hinder you from watching the rest of the episode or the series as a whole.
For every episode that confuses a viewer, there are at least three more that deeply resonate with them. All it takes is one Google Search or another re-watch to understand some of the confusing parts of this very complex, yet interesting television show.
Currently, there are only three seasons of Black Mirror so there is not a lot of hours it takes to binge-watch the entire series. It personally took me a week to watch it all and I was invested in the episodes every single minute.
The fourth season of Black Mirror should be aired by the end of 2018 so that gives plenty of time for aspiring fans to watch the show at their own pace and be caught up by the time the newest season is released.
If this article has swayed you to watch the series, feel free to tweet me @OwlFeedLauren and tell me what you think!