Profile on Stranger Things Kids
By: Elizabeth Sandoval
Everyone's favorite kids are back from the Upside Down and are taking over social media.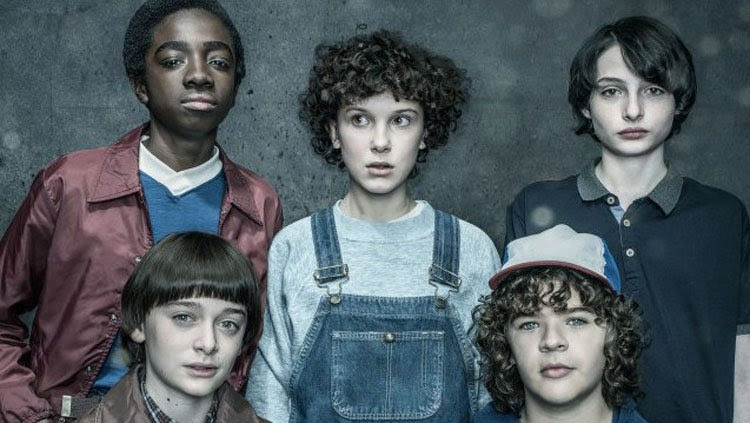 If you don't know them their names are Finn Wolfhard who plays Mike Wheeler, Gaten Matarazzo who plays Dustin Henderson, Caleb McLaughlin plays Lucas Sinclair, Noah Schnapp plays Will Byers, and Millie Bobby Brown who plays Eleven. These kids are all actors in the big Netflix hit Stranger Things.
If you don't already know the show is based on a book and it's about a boy named Will who gets lost in this place called the Upside Down and his friends and mom end up looking for him. These kids all are main characters in the show and are friends with Will.
Everyone on social media are freaking out about the shows second season release that is only on netflix. People also can't believe that they all can sing.They sang on The Late Late show with James Corden. Finn Wolfhard is starting up a band with another group of people and are making a EP.
If you have not seen the most recent remake of  'It' then you probably don't know that Finn Wolfhard had also starred in the movie. Finn started off his career as acting out goofy, and sarcastic pre teen character Richie Tozier.
These fellow co stars are quite young so they all do school together on set and always find time to spend together. If you didn't already know they are all friends in real life too. They all have social media and will post pictures from the set.
Recently on twitter there was a video surfacing around about Gaten Matarazzo helping those who have the same disorder called cleidocranial dysplasia. This disorder attacks the teeth and bones. He has been making fans who have the same disorder more proud to have it and to embrace it.  
Millie Bobby Brown who plays Eleven in the show Stranger Things has made fans love her and especially people in the music and acting industry. People such as Drake have posted pictures on their social media posing like how Eleven would be using her powers. She has also rapped on Jimmy Fallons show.
Caleb McLaughlin who plays as Lucas had started off his career on broadway by playing little simba in The Lion King show. He got his big break on Stranger Things as one of the main characters
Noah Schnapp is best known for his role for playing Will Byers who gets lost in the upside down. But before starring in Stranger Things he starred in The Peanuts movie, Bridge of Spies, and starred in Panic at the Disco's music video for La Devotee.