Local Music Artist
By Jesus De La Rosa
Arizona might seem like a bland, uneventful place to live in, but Phoenix is thriving with a great local music scene. There's many great bands that call Arizona home and this is just a small spotlight on a few artist I've been into these past couple of months.
AJJ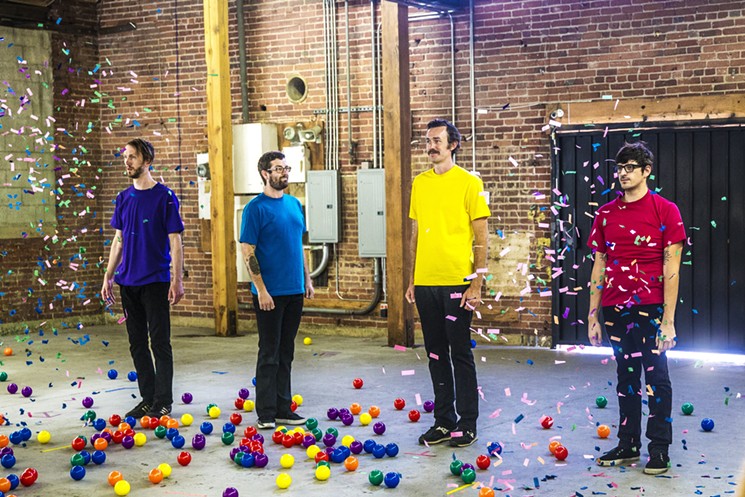 No list of local bands is complete without  folk-punk/indie band AJJ. Arguably one of the most important bands in the phoenix music scene. Originally comprised of guitarist/vocalist Sean Bonnette and bassist Ben Gallaty, they have grown to include a full band. Through his funny, yet provocative lyrics, Bonnette speaks on many social issues, mental health and the human condition in general.
Their earlier albums like People Who Eat People Are The Luckiest People In The World, rely heavily on an acoustic noise, while their more recent album, like their 2016 release The Bible 2, incorporate a full band into the mix, providing a more garage rock sound. They've gained a massive cult following not just here in phoenix but around the world.
The Color 8
Anyone who's ever been to First Friday knows The Color 8. They pull in a large crowd when they perform and it is well deserve. They play some of the greatest live shows I've ever seen, bringing a ton of energy and that transcends into their fans. Their performances feel incredibly real and honest, and are able to provide an intimate experience with those watching.
The Color 8 are able to pull off many different genres of music, from the first friday stapel, "RAW", which pulls of a rap/rock vibe reminiscent to Rage Against the Machine, except with a more heavy hip-hop influence, to the soft lovely sound of songs like "No Sleep" and "Galaxy". These guys are incredibly talented and deserve so much more love. I could go on about how great these guys are but just go and watch them perform, it's an amazing experience.
The Sink or Swim
This Alternative rock group, on the verge of releasing their new EP, 'Oasis Unknown', formed around 2 years ago and have released a steady stream of EP's since then. They create radio friendly alt rock with catchy guitar riffs and pop hooks.
Diners
Diners isn't as much of a band as it is a one man project. Musician Tyler Broderick is the head of this project, which accousanly plays with a full band. Diners offer a guitar driven, dreamy pop sound. Singles like "Fifteen on a Skateboard" Diners released their third studio album, "Three" last year and are on a nationwide tour.
Playboy Manbaby
Their strange names fits their music style perfectly, Their sound is uniquely weird and the singers exuberant yells are reminiscent to Dead Kennedy's Jello Biafra. The band stands out in the punk scene by including saxophonist Austin Rickert and trumpet player David Cosme, offering a distinct element to their sound. Their message can range from internal struggles, like their breakthrough single "Mermaid Pterodactyl" to politics, as shown by the single "You Can Be A Fascist Too", a cry against the Trump campaign. No matter the message, they always deliver a fun, energetic sound.