What You Need to Know About the Libyan Slave Trade
By Lauren Albrecht
@OwlFeedLauren
A video released by CNN brought much attention when it visually captured one of the most horrific occurrences of the 21st century: the Libyan slave trade.
The video shown here first presents a news team attending a Libyan slave auction.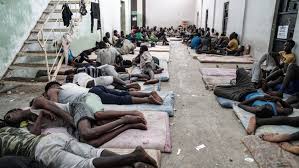 It shows three men being sold for 1,200 Libyan pounds, approximately 867 USD in total. It next shows a large group of African men who are waiting to immigrate to Europe. When interviewed, many of the men said that they were abducted and sold into slavery.
For a long time, many have stayed silent on this issue until this news report. This means that not too many people are educated upon the issue, especially if they have not had access to the recent report itself.
There are many questions about the Libyan Slave Trade, and here are some answers.
When did Libya start incorporating slave auctions into their society?
Some see this video as a problem that is just starting to happen, however it is much more than that.
Slavery is a global phenomenon that has occurred since the beginning of human civilization and of course has immensely grown with the human population.
The African country's slave trade has a long history and a lasting impact upon their culture. Between the 16th and 19th century, pirates captured over a million European citizens and sold them into slavery.
However, the slave trade did not matter on one's origin. Millions of Africans were abducted in their homes and sold into slavery as well.
While the slave trade died down a bit after conflict with the European countries their citizens were being abducted from, it got a jumpstart in the 21st century due to the need of industrial and agricultural labor in the Middle East and Asia.
This is how situations such as the auction shown in the video begin and thrive in many areas of the world.
How does this issue arise in Libya?
When attempting to reach Europe, many immigrants seek refuge in Libya first before departing by boat.
Approximately 400,000 people have attempted this dangerous journey that faced over 3,000 casualties according to figures from the International Organization for Migration (IOM), the U.N.'s migration agency.
Some aren't even able to be put on this trip because warehouses that hold immigrants overflow, forcing them out of their aspiration of living in Europe.
Knowing this, slave traders seek out those who are starting their new lives in a different setting and abduct them to be sold and bought. This is especially easier when immigrants are turned down and have nowhere else to go but the streets of Libya, where most of the kidnapping occurs.
The IOM says this trade is "fueled by the absolute rush of migrants through Libya thinking they can get out of poverty, following a dream that doesn't exist."
What is the impact of the Libyan slave trade?
The Libyan slave trade is extremely detrimental for several reasons. The first and most obvious reason is that it provokes human rights.
Most women sold into slavery are forced into prostitution.
Not only does this dehumanize and humiliate them but it also captures the emotional impact that it may have on those enslaved. According to CNN, there are a significant amount of survivors of slavery who have been diagnosed with mental health disorders such as depression, anxiety, and post-traumatic stress disorder (PTSD).
In the same article, it asks the reader to "Try and imagine, if you can, an existence where every important decision in your life is controlled by someone else," says CNN.
This is a crisis that surely impacts the safety and well-being of the nation. How is Libya handling it?
Libya is largely considered a failed estate. This means that the Libyan government is lacking in protection of its citizens.
Without a proper police force and military, this makes the country a minefield for slave gathering, auctioning, and trading.
But some ask what the source is to the failed government. According to Time , Muammar Gaddafi ran the country for four decades and was ousted in 2011. After, the country descended into civil war.
A transitional government failed to implement rule of law in the country, which has splintered into several factions of militias, tribes, and gangs. In lawless Libya, many see the slave trade and smuggling as a lucrative industry.
Tackling the country's humanitarian crisis will require international assistance.
So this seems like a major issue with an intense impact on Libyan culture and society. What can we do to help end the crisis?
While slavery may seem like a rapid cycle without an end, there are several solutions to help end the crisis, starting with focus in Libya, a nation with one of the largest slave populations in modern day society.
The IOM is an organization is closely related with the UN and its efforts to prohibit human trafficking and the slave trade in Libya. By supporting them, you could have access to newsletters released frequently about their activities that anyone can volunteer for and get involved in.
You can also donate to organizations that help refugees, including the United Nations Refugee Agency, and those that work to combat slavery, like Free the Slaves and End Slavery Now.
Additionally, shop slave-free. Use End Slavery Now's slave-free shopping guide to identify companies that prevent the use of  slave labor in its supply chains.
And simply spread the word. Many have recently taken to social media and held protests within the last few days to support the cause.
Make sure to stay updated on this issue and see how you can make a difference.