By Jesus De La Rosa
Boyband Brockhampton have made 2017 their year, working non-stop to treat their fans with project after project. Their debut album "Saturation" came out in July of this year, followed by their second album "Saturation 2"  and their much anticipated 3rd album "Saturation 3" drops on December 15th. Brockhampton have brought a new energy to hip-hop, reminiscent to collectives like Odd Future, and have made a name for themselves in just the few years they've been active.
But what is Brockhampton? Simply put, they're a boyband, but it feels wrong to just classify them as that. They're made up of rappers, producers, designers and filmographers. Everyone that is a part of making, releasing and promoting their content is a member of Brockhampton. In an interview with 'Fader', Kevin Abstract stated that he doesn't want Brockhampton to be noticed for only one medium. "I think what we're doing hasn't really ever been done before because on one end, we're a boy band and on the other end, we're like this media company/ad agency. Also, we want to be record label. So I've never really seen anything truly like it"  
They officially formed in 2015, with member meeting on a Kanye West forum. They all moved in together and started making music. They released their debut mixtape "All American Trash" on March 24th 2016 and soon followed with their debut album Saturation on June 9th and the follow ups Saturation ii Saturation iii. Their albums allow each member to shine, whether it be rapper producer or singer. You have songs you'd associate with a hip-hop collective like "SWEET" or "GOLD", but they also give us more R&B songs like "WASTE" and "SUMMER", both solo performances by bearface. Each album has a wide range of emotions and they make for an interesting journey.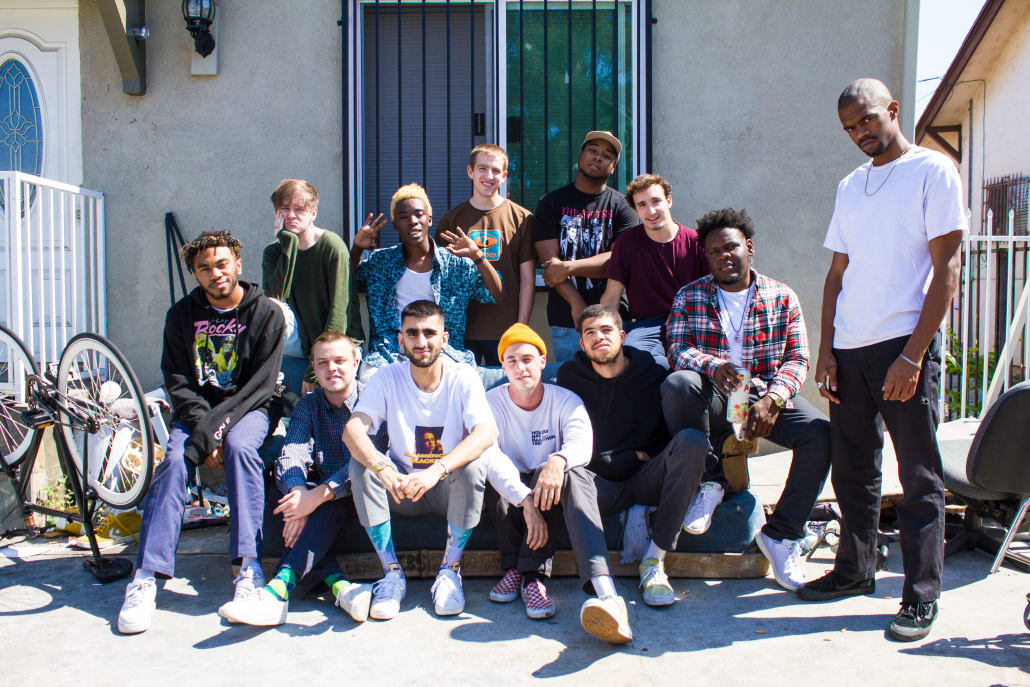 Their music is great but their visuals can't be overlooked. They have self released multiple music videos, directed by Kevin himself, that are not only visually appealing, they also tell a single narrative. They've also released a short film "Billy Star" following Helmet Boy, a character from Abstracts solo album "American Boyfriend". The film is emotionally gripping, especially if you've followed Helmet Boy's stories from the "American Boyfriend" videos. The short came with 5 new songs as the soundtrack, recorded just for the film, and comes just a couple days before the release of their third studio album.
The end of their music side is looking to be coming to an end, with the last instalment to the Saturation trilogy being promoted as 'The last studio album by Brockhampton' but Kevin Abstract assured on Twitter that it won't be the end of Brockhampton. They have a feature film in the works and are going on a nationwide tour in January, ending in Phoenix on March 7th. They've given so much to their fans this year and where they go from here is anyone's guess, but I know it'll be exciting.