Opinion: Movies You Must See This Christmas!
By: Kirsten Meyers
@kirsten.meyers6
Well, Christmas is almost here and I think it's always best to get into the holiday spirit with movies, but not just any random movies, CHRISTMAS MOVIES! These are all going to be short descriptions of the christmas movies that are a must watch. These are all strictly movie descriptions, and my opinion on some of them as to why you should give these five movies a try.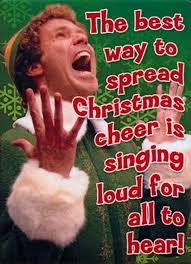 #1 Elf.  
When Buddy (Will Ferrell) was sent to the North Pole as a baby on accident, the elves decide to raise him as their own. However, when Buddy can't shake the feeling that he isn't from the north pole, he decides to move to New York, where he goes to perform his own investigation, soon he comes to find out that Walter Hobbs (James Caan) is his father through DNA testing. Hobbs tries to start a new relationship with his son, but it soon turns out to becomes chaotic with every step he goes through. This movie is honestly, one of the funniest movies I've seen, and it's a great way to get into the holiday spirit with the elves involved.
#2 Home Alone
When 8 year old Kevin McCallister (Macaulay Culkin) starts acting like a gremlin a day before the family trip, the mother (Catherine O'Hara) puts him in the attic to sleep, where the family then forget all about the boy. The boy finds this exciting, but soon finds out two con men (Joe Pesci, Daniel Stern) are looking to rob the place, now it's up the boy to protect the house all by himself. This movie is a hilarious classic, it's definitely worth a watch.  
#3 How the Grinch stole christmas (2000)
This movie is based off of the children book How The Grinch Stole Christmas by Dr. Seuss, The Grinch (Jim Carrey) decides he wants to ruin christmas for the whoos in whoville, joined by his dog Max he plans to snatch everything holiday related in the town until he meets a citizen named Cindy Lou (Taylor Momsen) who tries to persuade him out of robbing the holiday spirits for the citizens.  This live action adaptation is great for the kids, parents, and grandparents, with it's comeditic language it's great for all ages to understand the jokes, and it's just another great way to get into the holiday spirit.  
#4 The Polar Express.
On Christmas Eve when everyone is sleeping in a town, a mysterious train is waiting for a pessimistic boy who is being picked up with other children to go to the north pole to visit Santa Clause. He soon in self discovery finds himself believing in santa clause, and still believes to this day. This movie is kid friendly, and it even helps out kids who are having a rough time believing in Santa Clause.
#5 Nightmare Before Christmas
When Halloweentown's Pumpkin King, Jack Skellington, becomes fatigued with the same yearly routine of scaring people in the real world, he decides he's going to go out of his comfort zone and take over someone else's holiday after he accidentally stumbles into Christmastown. He finds himself overcome with excitement and decides he will be the next Santa Clause. This movie is overall, really funny and gets you in the mood for Halloween and christmas. It's like the best of both worlds if you love both of these Holidays