How to Adapt to the Transition Between High School and College
By: Dayshia Stratton
The transition into college can be a scary experience, especially for those who have no prior experience with it. It is different from high school in so many ways and it is easy to start stressing over the change. To help keep the stress reduced, I am going to discuss ways to adapt to the transition so you have more time to focus on your studies.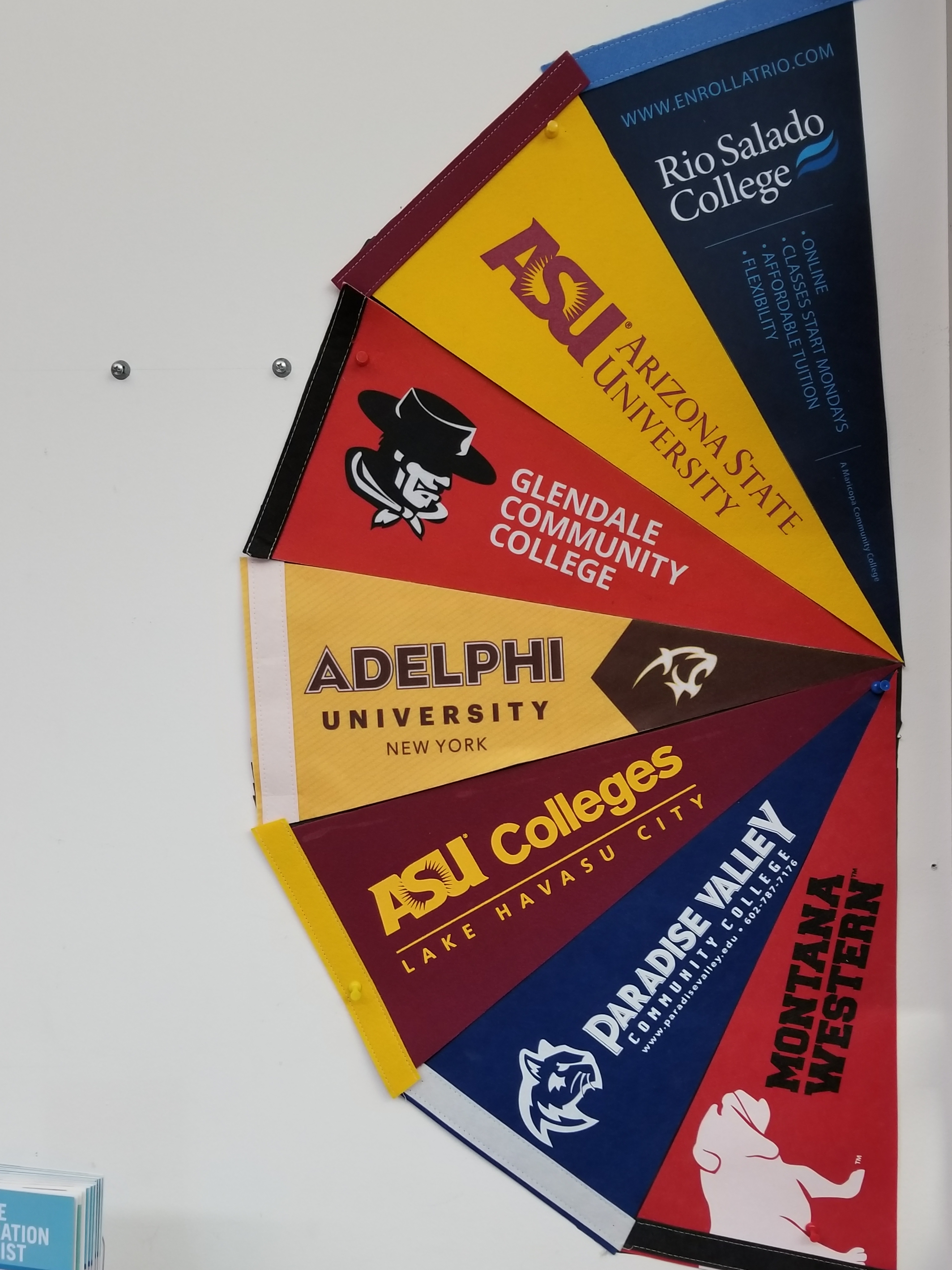 College is a whole new experience that helps you grow into an independent person. "You are treated as an adult in college," said Mary Ciulei, the college and career specialist at Agua Fria. In college, from the minute you step on campus as a student you are expected to be independant and find answers for things you don't know on your own. "You are completely on your own, there aren't people holding your hand, kind of like in high school," said Analy Talamante, one of Agua Fria's school counselors.
The amount of responsibility that is given is in college is a lot greater than all of your previous years. You have to be responsible enough to manage your time so you do not get burnt out.
You have to balance studying time with fun because if you neglect studying "you can lose your financial aid and then you have to go through this probation period and if you do not meet all the requirements then you lose your FAFSA until they can allow you to apply for it again," said Talamante.
If you do find yourself on academic probation, "you can fail out of a college. If your GPA is under a certain number you go onto academic probation and you have to raise your GPA to stay in college," said Alicia Szymonik, student teacher at Agua Fria.  "If you do not have good study skills going in, you will have a hard time keeping up," she said.
Transitioning the skills you learn in high school into college is important because using each one when it is needed will help keep you ahead of the game and with less worry. "There is information that is in the lectures that is not in the reading and sometimes some professors do not use textbooks, it all depends on the class and the professor," said Szymonik.
Every college is different with their rules and the way that they work can differ drastically from college to college, it doesn't matter if they are in the same state or not.
"College is not only about classes, it is more of growing socially, cognitively (planning), and spiritually, It helped me to be more responsible and independent," said Ciulei , "Not just going to school like you tend to in high school you are focusing on what steps to take next that can prepare you to get a good job."
While you are growing smarter and personally in college there are going to be barriers that try to get in the way, learning how to self advocate and manage time on your own are two things that will really help you out in the long run because you are being responsible and taking matters into your own hands. "Learning how to advocate for yourself gives you the tools that you need to find the answers to your questions," said Talamante.
In order to survive in both college and the real world, you have to learn how to self advocate and manage things and time on your own. It is really important that you learn what kind of workload you can deal with without getting burnt out. It is equally important to keep in mind the different colleges and which one you would do the best in. College is an opportunity that should not be taken advantage of because, "There is a lot of potential out there to allow you to grow and do more with oneself," said Szymonik, "It makes the world more exciting, it opens up the world to me," said Szymonik. "Students typically choose a college that they are comfortable with. Most people who are going are self motivated."
Colleges can range in size, some will have smaller classes while others have huge classes and you'll have to pick a place where you would be the most successful and comfortable. College helps you grow and shape your personality like high school does, but you get more chances because you have to focus more on yourself.
"You are focusing on when you get out of college what you should be doing to ensure that you do get a good job in the field that you want and went to school for," said Ciulei. College sends you through a set of challenges knowing that you will overcome each one but each challenge it throws is a good thing, it is adding on another way that your personality is growing.
"College taught me how to advocate for myself and how to be independant and voice my opinions and concerns," said Talamante. "I feel like a lot of the reason why my personality is the way it is because of all the challenges that I have had. If it [had] been easy for me I don't know if I would be the way that I am now."