Lauren Albrecht
@OwlFeedLauren
Christmas, the season of giving. It is that time of year again where we give to those we love, and who would we love more than our favorite four-legged friends?
With a long list of friends and family members to give gifts to, it can be difficult to remember that your pet needs presents on the holidays too. Then, even if you do remember, it can also be a struggle to decide what your pet wants for Christmas.
Well, fear no more. Here's a list of gifts for your pets that even Santa Claus himself would be proud of.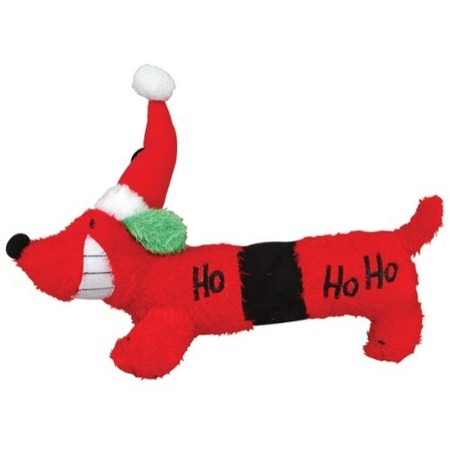 With an adorable spin on the Spanish phrase "Feliz Navidad," you cannot go wrong with this toy!  And hey, who doesn'tenjoy the occasional pun?
Do you love pickles? Are you trying to convert your pet to become a Rick and Morty fan (If you don't understand the reference, context is in the link)? Then this toy set of a Mrs. and Mr. Pickle will for sure, dare I say it, tickle your pickle!
Any cat lover knows that their cats cannot keep their paws off of the Christmas tree and decorations. In a way, this is more of a gift for you than for your kitty as it takes the attention away from the decor you put tedious work into and lets you relax while they enjoy their new, festive scratching post.
If you're tired of your dog getting stuffing all over the floor days or even minutes after they got their new stuffed toy (dont worry, all dog lovers have been there), look no further. This is an adorable squeaky toy that your pet will love with no mess!
Who lives in a pineapple under the sea? Just like SpongeBob SquarePants, himself, your fish will enjoy this wonderful gift too!
Whether it's a turtle, lizard, or snake, your reptile will feel like royalty in this king-sized habitat accessory (pun intended)! This is a great present to your reptile that will also give off a natural look to your tank.
Yes, even birds have a sense of Christmas spirit. This snowman toy is a festive piece that will definitely entertain your birds over the holidays.
Unlike the regular hamster wheel, this seesaw will be the perfectly unique addition to your pet's presents on Christmas day.  
This reindeer toy is absolutely perfect and entertaining for large dogs.
If you don't know where exactly to put all these toys you got for your four-legged family member, then it is essential that you get this stocking to be filled with all their favorite goodies. There is no doubt that your pet will appreciate the loads of stocking stuffers their favorite human got for them on this holiday season!
Pet owner or not, happy holidays to all!