I Auditioned for the School Musical. Here's What Happened
Lauren Albrecht
@OwlFeedLauren
When I talk to people, I find that  they have taken interest in joining a musical and would love to be a part of theatre in some way. However, some issues tend to be that they are not aware of the process of auditions or are too nervous to do so.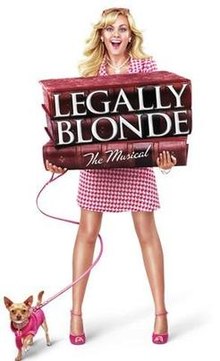 Here is my experience auditioning for Legally Blonde: The Musical, in order to help those who are on the fence about joining theatre:  
On January 16th-19th, I auditioned for the school's spring show, Legally Blonde: The Musical. Those days were filled with much stress and anxiety, but also with fun and excitement.
It began on a Tuesday. I had been working during Winter Break, trying to find a fitting song for my voice as well as the musical itself because I knew that the first day of auditions were singing auditions.
I walked into the green room across from the black box where I took my theatre classes. The room is bustling with people mentally practicing their songs, filling out audition forms, and of course laughing and conversing.
I caught up with my friend Alexis and asked her if she wanted to warm up with me. She agreed and we were able to help each other out on each others' pieces.
After warming up and rehearsing, I waited in line for the stage managers to call me into the black box, where the first audition would take place. The stage managers, Sarah Loya and Felicia Jeppe, talked to me as I walked to the audition room, making me feel very comfortable by the time the karaoke track to my audition piece began to play.
After that day, myself and many other auditioners that I talked to felt confident in their audition.
When I asked Alexis how she felt about auditions afterwards, I remember her saying, "personally, I had a lot of anxiety during the process. However, it was overall a smooth process and very organized."
But that was only the beginning of auditions.
Wednesday was dance auditions. 50+ aspiring actors packed onto the auditorium stage to learn a short dance from biology teacher and dance choreographer Ms. Edwards. It took a bit of effort to comprehend the moves, but when I got them down, a wave of excitement fell over me.
After being taught the dance, we split up into groups of three to perform them in front of Mr. Gonzalez and Ms. Edwards.
What was best about dance auditions was the time we spent learning from one another and enjoying each other's company. Even though nobody got the dance sequence right, we all had so much fun that our mistakes did not matter.
The last day of auditions included the acting portion.
We were given six scenes to choose from and we could only choose one role from one excerpt.
I auditioned with my friend Adriana in one of the duo scenes, and it went a lot like the singing auditions because we stood in line and waited to be called into the audition room.
The callback list posted the day after. That list did not really mean anything besides the fact that those called had to stay after school to audition, but people were still curious to see who was on it.
Of the many who auditioned, around 20 were called back. I was one of those people so I will also be able to experience that as well.
Callbacks were a mix of both singing and acting auditions, except the director was able to choose what roles and scenes we would read for and what song excerpt we would sing.
Another difference from regular auditions and callbacks was that we were able to see what other actors were performing when we were not preparing for a scene or song excerpt.
That was when I was able to notice the massive amount of talent our theatre club really has. It made me even more excited to be in a cast with such a talented group of people.
Overall, Legally Blonde auditions were very enjoyable despite the occasional jitters that are normal in any other audition or presentation.
If this sounds like something you would enjoy, I highly recommend that you audition for the next show in late March! If you prefer not to wait for that, then come out to a theatre club meeting and join the tech crew for Legally Blonde.