Class of 2018 Excited to Graduate in University of Phoenix Stadium
By: Dayshia Stratton
OwlFeed Journalist
When senior year rolls around, graduation is a big thing that is always at the back of every senior's mind. Graduation this year has changed in a few significant ways that has many people excited for it to be here.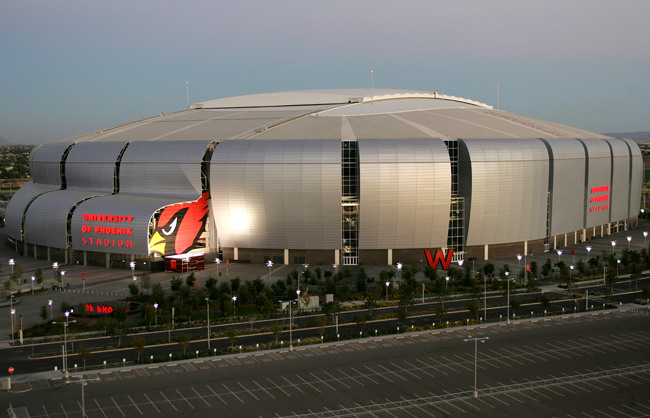 Unlike any other class before it, the AFHS class of 2018 get the luxury to have air conditioning and a huge venue to go with it. No other graduating  class at Agua Fria  has ever graduated from the University of Phoenix Stadium (The Cardinals Stadium). Graduating is already a huge event for us seniors and their venue this year makes it an even bigger event to them.  
The first and biggest change to graduation this year compared to previous years is that it is being held in the Cardinals Stadium! 2018 is the first year that any of the schools in the Agua Fria District gets the chance to graduate inside the stadium, to make is even more pleasing for Agua Fria students, we are graduating first!  
"I feel blessed, honored, and we deserve it. A lot of the class has worked hard for it and we have earned it," AFHS senior Lexy Campbell said.
The second big change is that instead of having graduation on Fridays like all the previous years, we are graduating on a Saturday, May 19, at 11 a.m. The doors will not be open until 9 a.m. for anyone to enter. The whole graduation process will take an hour and 15 minutes total because the other schools in the Agua Fria School District are graduating in the stadium after we do.
Some students and teachers feel that graduation on a Saturday does not make sense.
"It's pretty good but at the same time it is dumb. It's dumb because I have never heard of any graduation on a Saturday," senior Janice Sandoval said. However, despite Sandoval's opinion, others feel that it is a good thing.
"It's different, like I said 2018 is different, we get our own stuff, to graduate on Saturday in the Cardinals Stadium, it doesn't get any better than that," senior Jamal Haskins said.
Some important things to keep in mind for the event is that since we are graduating school by school there is no worry about parking, seating, or the tickets. Believe it or not, the tickets are truly free for each and every student to bring as many people as they want.  "Getting unlimited tickets is cool because then nobody has to choose certain people to come and see you graduate," Sandoval said.
The set up as to where our families and friends will be watching from the stadium provides each and every person a good seat from where ever they sit to be able to see their beloved senior graduate and continue their journeys in life. Many students are inviting as much family as possible so that the whole family can all share the amazing new moment together.
The Cardinals Stadium is a huge venue that many people do not get the chance of being on floor level for. Families and friends however, get to watch them graduate and will be able to see them nice and clear on the jumbo screen when they walk across stage and their names appear, providing a time for an amazing photo to be shot by the folks in the stands.
This will be a moment of a lifetime that the class of 2018 will truly not forget. Mr. Molina will be speaking at the graduation along with two Valedictorians who auditioned and got the chance to be the final voices of the whole class of 2018.
Even though we are graduating in a new venue than our school has ever done before we are still bringing with us our traditions.  "You get to have this experience with everything tied to the whole tradition and heritage that we inherit as Agua Fria high school," said Ernest Molina, the principal of Agua Fria.
As a school we keep our ways around how tradition has set it and so because of how this has been portrayed Mr. Molina really believes traditions are a huge piece of our school and our district. When asked how Mr. Molina felt about being first to graduate at the stadium  because of the history of our school and district, he said he "would like to be first or last," because "we are the mother school where it all began."
"Graduating in the stadium gives them the extra satisfaction of feeling like they have succeeded this far and keep going," he said. "The stadium gives them the chance to have this moment, not only as a class, but also individually."
As said by Mr. Molina, "We as a class did it but additionally they as an individual met a milestone as well."
This is how Mr. Molina wants them to feel walking off that stage and finally being able to say that it is over and they have graduated. They have all made it this far together. Soon it will be time where friends and cliques start to part. Now is the time to be proud of all the hard work you have done leading up to that moment. It is coming soon.  
To the seniors reading this, don't just be proud of yourself, be proud of others for also being able to succeed this far along with you. School is not always the easiest, but being able to graduate makes it all worth it, especially when the venue is one that is so widely known as the Cardinals Stadium.