Agua Fria Students Embark on Random Acts of Kindness in the First "No Student Eats Alone" Meeting
By: Lauren Albrecht
Follow Me on Twitter @OwlFeedLauren
On Friday, February 23rd, over 100 students and faculty members at Agua Fria High School met in the South Pod to discuss a new program rising in the district: No Student Eats Alone.
The meeting lasted approximately 15 minutes where Math Teacher and Program Sponsor/Coordinator Mr. Graves discussed the program from where it originated from to what it can do for the future of the student body.
At the meeting, he challenged those involved in the Agua Fria community to one specific objective.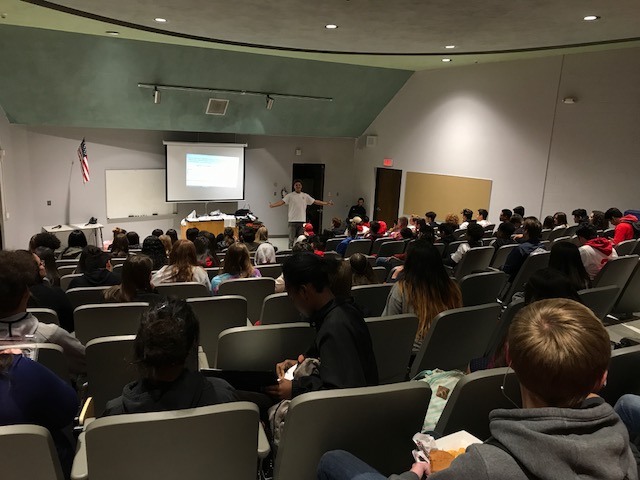 "The goal is to get leaders in this school to go find students who sit by themselves during lunch," said Mr. Graves.
In order to achieve this goal, each participating club on campus will be assigned a week where members will approach and sit with students sitting alone at lunch and "every club can kinda make it their own," said Mr. Graves.
Junior Student Council Representative Andrea Barrios is involved in many clubs and sports on campus and is very excited about how the new program will unite all types of students from all parts of the school.
"It's a really cool opportunity for all the clubs to work together," Barrios said. "It will help us support each other more, support each other's events, games, shows, etc."
However, the main questions concerning No Student Eats Alone is this: What makes a student sit alone? Is it because they want to or simply because they have nobody to eat lunch with?
"There is a lot of reasons why someone may be sitting by themselves," Mr. Graves said. "Maybe, they just don't have a ton of friends; it's really tough for them to go and have that social interaction."
Another concern is that it will challenge many students to wander outside of their comfort zone when meeting someone new.  Nevertheless, the students at Agua Fria have shown the utmost support for No Student Eats Alone because stepping out of one's comfort zone has shown to make a positive difference on not only the lives of others, but theirs as well.
"I think it is going to bring our school even closer," said Senior Class President Walter Dillan Gonzales.
Mr. Graves is especially very hopeful in how No Student Eats Alone can contribute toward the social wellbeing of Agua Fria High School.  "You can go out there and change a life," he said. Even if a volunteer sits with a student who does not seem that talkative or interested in making conversation, "maybe you did make that difference."
The program also benefits those volunteering as well, most likely just as much as it benefits students sitting alone. According to Mr. Graves, the main lesson from being a part of No Student Eats Alone is "teaching kindness, teaching compassion."
If you would like to get involved in this outstanding new program, visit Mr. Graves in room B1 for more information.